Iraq's Counter-Terrorism Service (CTS), backed by coalition aircraft, killed on Monday (September 14th) the "Islamic State of Iraq and Syria" (ISIS) financier in western Anbar province.
The force raided the militant's hideout and arrested another senior ISIS leader after conducting a landing operation on the town of al-Rutba.
The operation comes as part of a wider campaign by the CTS to capture high-ranking ISIS figures in collaboration with the international coalition, said Maj. Gen. Tahseen al-Khafaji, a spokesman for the Joint Operations Command.
The CTS, in co-ordination with other commands including the al-Jazeera, Salaheddine and Western Ninawa commands, have recently conducted successful operations against ISIS remnants, he said.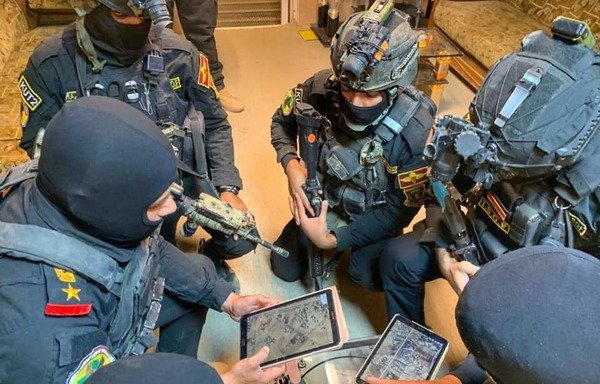 "Security forces gather information about terrorist remnants' hideouts, analyse the data, and then attack targets as part of an offensive plan of action," he said.
Operations against ISIS are ongoing, he said, "as we work to maintain momentum against the [militants]".
Since September 7th, the CTS has carried out seven raids and landing operations on ISIS hideouts in the areas of Daqouq and al-Hawijah in Kirkuk, al-Karma and Fallujah in Anbar, and al-Sharqat in Salaheddine province.
"The operations led to the killing of two terrorists and the arrest of 10 others, including six active [ISIS] leaders," he said.
The CTS on Tuesday said it arrested a militant minutes before he attempted to detonate an explosive device in the midst of civilians shopping in a popular market in the city of Baquba, Diyala's provincial capital.
Albu Nimr massacres
Former Anbar provincial council security committee chairman Naeem al-Koud said security forces have arrested two ISIS elements who supervised mass killing campaigns carried out by the group against hundreds of members of the Albu Nimr tribe between 2014 and 2015.
A force from the National Security Service arrested the militants on Tuesday. They were serving as security elements in ISIS's "soldiers" diwan in Fallujah.
This is a significant achievement by security forces in "tracking down terrorists involved in the shedding of innocent blood", he said.
Al-Koud, who belongs to the Albu Nimr tribe, said the tribe has "sacrificed many of its members because of its loyalty to and defence of the homeland", noting that ISIS has killed at least 1,200 of Albu Nimr's tribesmen.
He urged to "form high committees to investigate those responsible and those involved in these massacres", and to provide fair compensation to the victims' families and help rebuild their homes destroyed by ISIS.