Iraq's Counter-Terrorism Service (CTS) has been employing new tactics against "Islamic State of Iraq and Syria" (ISIS) remnants, resulting in the capture and killing of dozens of ISIS leaders, an official said.
The force is employing new and effective tactics as part of its strategic plan to combat ISIS cells and target the group's senior leaders, CTS spokesman Sabah al-Numan told Diyaruna Tuesday (November 10th).
"We have started using advanced monitoring and tracking technology, in addition to enhancing our troops' combat skills to enable them to carry out rapid raids on the terrorists and minimise their chances of escaping," he said.
The CTS is carrying out nocturnal security missions and surprising the enemy with air landings on its hideouts, whether on the outskirts of cities or in mountains, valleys and desert areas, he added.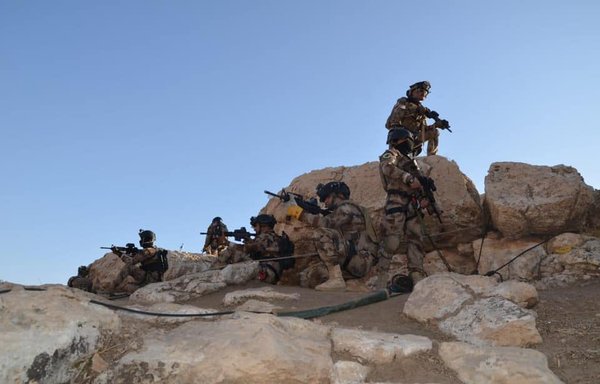 It also continues to support the raids conducted by the Iraqi air force and international coalition warplanes, said al-Numan, noting that this effort has helped achieve "great results in terms of reducing ISIS remnants' threat and confronting their activity".
He said the CTS is now focused on capturing top ISIS leaders, including those involved in overseeing attacks, financiers, administrators and field commanders.
"The loss of any [ISIS] leader deals a heavy blow to the group as they are not easy to replace," he said.
The death of leaders exacerbates ISIS's current predicament and prevailing lack of trust among its leadership amid increasing friction over matters of command and management of attacks, said al-Numan.
"We have been able in recent months, as a result of our operations, to arrest dozens of terrorist leaders and kill several others," he said.
'ISIS breakdown'
Since early November, CTS forces have arrested 10 ISIS elements in northern Baghdad, Fallujah and Ramadi, including an ISIS commander who had accompanied former ISIS leader in Anbar province, Shakir Waheeb.
Waheeb was killed in 2016.
The CTS also arrested a militant who was responsible for recruiting children into the group in Fallujah.
Over the last five months, the CTS has arrested about 175 ISIS leaders and elements and killed another 80 in 151 operations.
These efforts have contributed to "restoring stability in areas with heightened security concerns, especially in the areas separating the provinces of Kirkuk, Diyala and Salaheddine", al-Numan said.
Regarding the ISIS attack Monday on a military post in al-Radwaniya, west of Baghdad, al-Numan said it "will not affect our plans to defeat the group's remnants".
The attack, which killed 11 people including security personnel, "is not an indication of a security weakness or a threat to the capital".
"This terrorist act reflects the terrorists' breakdown, and that they are only able to carry out revenge retaliations in remote areas," he said, stressing that ISIS is not able to penetrate Iraqi cities and threaten them with attacks.