The international coalition has been supporting efforts to restore stability in the Ninawa Plains area by sponsoring programmes to remove mines and explosives left behind by the "Islamic State of Iraq and Syria" (ISIS).
These have focused on the towns of Tal Kayf, Bartella, al-Hamdaniya and al-Qahtaniyah, among others.
Within two months, more than 32 kilometres of roads and dozens of hectares of agricultural land have been cleared of mines and explosives, said Col. Ahmed al-Jubouri, who heads Ninawa Police Command's explosives disposal unit.
This has been achieved despite the hurdles posed by the novel coronavirus (COVID-19) pandemic, he told Diyaruna.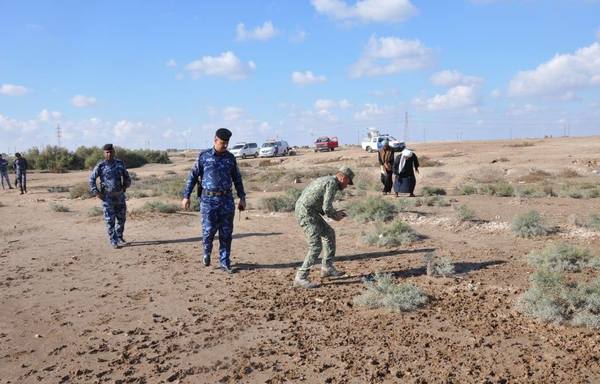 The international coalition supplied Iraqi police and other specialised explosives and ordnance disposal units with protective suits and modern detection equipment that helped expedite operations and prevent injuries, he said.
'Sacred duty'
The explosives ISIS left behind were designed to "inflict the highest number of casualties", al-Jubouri said.
To prevent these deadly devices from killing or injuring civilians, Iraqi forces needed to obtain modern equipment with remote sensing capabilities, he said.
In addition to providing specialised equipment, he said, the international coalition trained security personnel on how to handle and defuse explosives.
For each mine or explosive removed, the life of at least one person is saved, he said: "This work is gratifying for us, because we are performing a sacred and great duty, and the coalition is without question helping us in this regard."
The removal of mines and explosives is key to restoring stability and normal life in parts of Ninawa province where residents fled ISIS and now seek to return, Tal Kayf district council member Bashir al-Juhaishi told Diyaruna.
The coalition and UN are playing a leading role, he said, not only in clearing Ninawa Plains of mines and explosives, but also in supporting projects to restore drinking water and rehabilitate schools, health centres and hospitals.
They also are offering assistance and care to victims of terrorism via centres for the manufacture and installation of prosthetic limbs, al-Juhaishi said.
'A safer place'
Residents are kept informed of the ongoing mine clearing operations via the Iraqi army, which announces when and where ammunition and explosives will be detonated, Mosul activist and lawyer Ali al-Hamdani told Diyaruna.
This lets residents know what is going on so they do not panic, he said, noting that the removal of each mine "means a new life and the birth of hope in a safer place".
Al-Hamdani said his own cousin was killed in a mine explosion in 2017, as he farmed his land in Badoush district, east of Mosul.
"My cousin was killed in the explosion of a mine planted by ISIS in an irrigation canal," he said, which confirms that the group targeted civilians, because "only the farmer accesses his land and cultivates it, not policemen or soldiers".