The Iraqi government has so far removed close to 30,000 mines and improvised explosive devices (IEDs) left behind in Mosul by the "Islamic State of Iraq and Syria" (ISIS), with efforts to clear the city and province continuing apace.
The government efforts have largely, but not entirely, eliminated the danger to residents, as vast areas in the western part of the city are still contaminated with explosives, Iraqi officials said.
ISIS initially planted mines to prevent Iraqi forces from reaching the areas it controlled, and later planted them as it retreated from these areas to inflict damage on the liberating forces and prevent residents from returning.
'They planted explosives everywhere'
The number of mines ISIS planted in Mosul is "beyond imagination", Ninawa provincial council member Khalaf al-Hadidi told Diyaruna.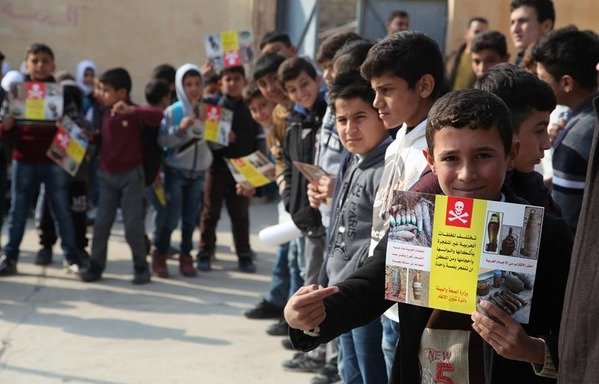 "They planted explosives everywhere, from electricity poles to home furniture and even children's toys," he said.
"The government is doing its best to tackle that threat," he said, noting that both the de-mining team and returning residents have suffered casualties.
The problem needs to be tackled more aggressively, he said, by "mobilising all efforts and launching a large-scale cleansing campaign" with the help of Iraq's international partners.
This would include the provision of more advanced equipment to detect and dismantle explosives, he said, and the provision of training so that more de-mining teams can be deployed.
Teams move at a rapid pace
The removal of IEDs from Mosul is proceeding at a rapid pace, said Muammar Salahuddin Abdul-Salam, director of the Ministry of Health and the Environment's Northern Regional Directorate of Mine Action.
"We are working at a high level of co-ordination with members of the police explosive ordnance disposal unit, military engineering unit, the UN Mine Action Service and several local and international organisations," he told Diyaruna.
Joint efforts have so far seen the removal of 27,000 mines and IEDs from all parts of Mosul, he said, "but the size of the contaminated area in Ninawa province [about 115 square kilometres] remains massive".
"It is very difficult to ascertain the number of remaining IEDs and mines because many of them, especially in western Mosul, are buried under the rubble of destroyed buildings," he said.
The teams encounter various types of explosives on a daily basis, he said, with some being relatively simple and others professionally designed.
In addition to being camouflaged, many ISIS-planted IEDs were set up in connected networks the removal teams refer to as "death traps", he said.
"ISIS elements often filled the IEDs with high-explosives such as C-4 or ball bearings, nails or even chemicals," he added.
Action plan to remove mines
"Declaring Mosul and all liberated areas free of explosives is a strategic objective," said Issa al-Fayyad, who heads the National Directorate of Mine Action.
"We are working to our utmost ability to overcome this serious challenge, which directly impacts people's lives," he told Diyaruna.
"We have developed an ambitious action plan with the participation of local and international actors that extends through 2021," he added.
This plan focuses on "strengthening and developing our capabilities in the area of removing IEDs, mines and unexploded ordnance, and raising public awareness about their dangers", al-Fayyad said.