Iraqi volunteers from Ninawa province have completed a training course on the removal of improvised explosive devices (IEDs) held by the Swiss Foundation for Mine Action (FSD), an official told Diyaruna Monday (May 13th).
"Forty-two volunteers from Ninawa -- 32 males and 10 females -- completed a training course on the treatment of unexploded IEDs and explosives last week," said FSD training teams supervisor Omar Ali Mohammed al-Jabouri.
The course, held by the FSD in the district of Mawat in al-Suleimaniyah province, lasted 52 days, he said, noting that the volunteers received theoretical and practical lessons on ways to defuse, remove and dispose of mines and IEDs.
"The training was given by experienced Iraqi and foreign experts," he added.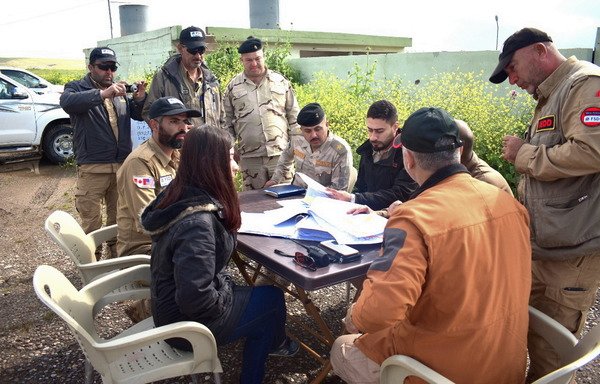 This is the second course on mine removal held by the FSD since it began its work in Ninawa province more than a year ago, said al-Jabouri, noting that the first class graduated in May 2018.
The new graduates will initially work with active teams in order to learn from them and gain greater skills and experience, he said.
Starting in mid-June, they will start clearing sites in areas east and south of Mosul that are contaminated with unexploded IEDs and mines planted by the "Islamic State of Iraq and Syria" (ISIS) during its control of the city, he said.
The sites are located in al-Hamdaniya, east of Mosul, and al-Qayyarah, south of Mosul, said al-Jabouri.
Fostering stability
FSD collaborates with the Iraqi military, with support from the US and Canada, to remove mines and explosives in areas liberated from ISIS in order to foster a safe and stable environment for Iraqis residing in these areas, he said.
"Over the last three years, we have succeeded in treating some 15,000 mines and projectiles left behind or planted by the terrorists in private lands and buildings and in government facilities," he said.
FSD's work is not limited to conducting training and participating in mine removal, he said, but also includes performing technical surveys of areas contaminated with war remnants and mines.
The organisation also carries out campaigns to raise people's awareness of the danger of mines, he said.