Iraqi forces launched this month a two-day operation to hunt down members of the "Islamic State of Iraq and Syria" (ISIS) in northern Baghdad's al-Tarmiya district.
The forces conducted a full sweep of the district, where ISIS members were reportedly hiding. The sweep included searching agricultural land and homes, as well as inspecting residents' identity documents.
According to official data, the operation resulted in the arrest of two wanted individuals, and finding and destroying five ISIS safe houses and an underground military base. The base was used to train and house militants.
Weapons and explosives were also confiscated.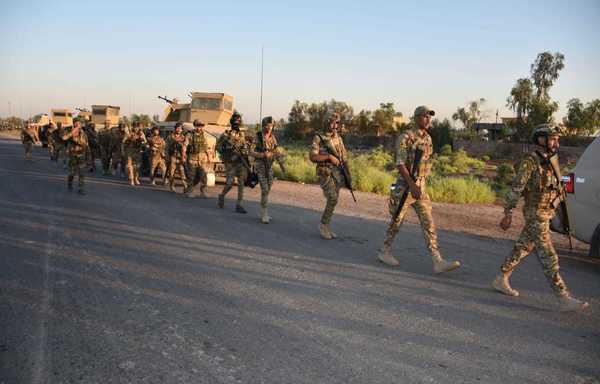 Supported by the Iraqi Air Force, the operation was carried out July 2nd and 3rd as a collaborative effort by Baghdad Operations Command's units 6, 11 and 17, Rapid Response Forces, the Federal Police and tribal mobilisation forces.
Sheikh Muayad Khalifa Burh al-Mohammadi, a prominent figure in al-Tarmiya district and northern Baghdad, told Diyaruna the operation was based on precise intelligence and achieved important results.
He described the operation as a "firm response to a late June terrorist attack on the Iraqi army's security forces, three of whom were killed in the attack".
Al-Tarmiya security improving
Al-Tarmiya district, the main northern access point to Baghdad, stretches across 100,000 acres of land and has a population of 90,000. Some 100 ISIS operatives are reportedly hiding in the district.
"The security situation in al-Tarmiya has substantially improved over the past several years as a result of military and intelligence efforts that have reduced the movement and activity of terrorist elements by 90%," al-Mohammadi said.
In spite of strides in enhancing security, locating terrorists in the area has become more complicated, since they tend to hide in caves or in dense vegetation. What is helpful, al-Mohammadi said, is the help of locals who provide information and logistical support to Iraqi forces.
The district is considered a strategic target for militants due to its vast size, agricultural landscape and access to three provinces: Salaheddine, Diyala and Anbar.
Fadel Abu Ragheef, an intelligence expert, told Diyaruna ISIS operatives continue to try and create an environment conducive to recruiting new members, and their goal is threatening Baghdad's security.
Since April, intelligence forces have dismantled several terrorist cells in areas surrounding Baghdad, particularly in al-Tarmiya, said Abu Ragheef.
On July 7th, a joint army-intelligence task force managed to eliminate Abu Anas al-Obaidi, an ISIS commander, in al-Tarmiya's al-Azari area.
Securing 'Baghdad Belt'
"ISIS operatives are not as strong as they used to be and can no longer move and escape as easily," security analyst Safa al-Asam said.
Al-Asam told Diyaruna that search operations will continue in critical areas around the capital, known as the Baghdad Belt.
ISIS elements are still hoping to gain a foothold in these areas so they could reach Baghdad, he said. Despite their limited ability to act, they seek to exploit any breach in security to carry out smaller-scale attacks in hopes of gaining media attention to promote their extremist ideology.
Al-Asam said ISIS has not been completely eliminated and its hotspots, some of which are suspected to be in northern Baghdad, are still active.
He called for benefitting from local and tribal support to help "locate ISIS hideouts, their secret communication channels and their supply sources".