Some Iran-aligned politicians and public figures in Iraq have seized on a recent incident in Baghdad province's al-Tarmiya, in which an Iraqi commander was killed, to call for the expulsion of the district's mostly Sunni residents.
By falsely claiming that local residents support terrorists, they seek to force them to relocate en mass and make way for Iran-backed militias to establish a presence in the strategically-located district to the north of Baghdad.
The "Islamic State of Iraq and Syria" (ISIS) claimed responsibility for the July 17th attack in al-Tarmiya that killed Brig. Gen. Ali Hamid Ghaidan al-Khazraji, commander of the 6th Infantry Division's 59th Brigade, and three other soldiers.
The incident inflamed sectarian tensions in the district, prompting Prime Minister Mustafa Kadhemi to visit al-Tarmiya. He was greeted with cheers as he pledged to "confront those who seek to revive sectarianism".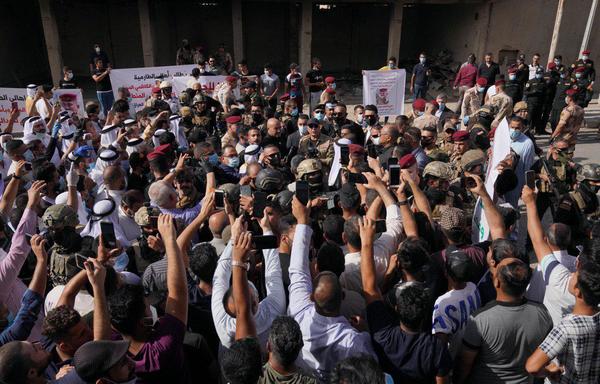 Some entities associated with Iran-backed militias have tried to undermine local leaders in the district as a pretext for expelling the district's majority Sunni residents and effecting demographic change.
This is what happened in Babil province's Jurf al-Sakhr, where residents were forced out to make way for militias. Over the past six years, that town has become a base for armed militias in southern Baghdad.
In a social media post, journalist Ahmed Abdul Sada, who has close ties with the militias, advocated the same strategy for al-Tarmiya, suggesting that the militias would prevent acts of terrorism from occurring.
"There is no other solution to the chronic terrorism issue in al-Tarmiya but to follow the lead of Jurf al-Sakhr and to depopulate it and hand over security to the Popular Mobilisation Forces (PMF)," he said.
Local residents can be compensated "by giving them land in other areas that are less dangerous from a geographical perspective", he suggested.
Iraqi MP Hassan Salim of al-Sadiqoun bloc, the political wing of Iran-backed militia Asaib Ahl al-Haq, said al-Tarmiya "has pockets of terrorism and political figures that are protecting terrorists".
He accused these figures of "standing in the way of any military operation targeting these terrorist groups that pose a threat to Baghdad", and used the pretext of fighting terrorism to call for a large-scale military operation.
Al-Tarmiya residents push back
Local activists launched the Twitter hashtag #al-Tarmiya_our_people to voice their rejection of this position, asking followers to use the hashtag to renounce sectarianism and all attempts to expel al-Tarmiya residents.
Al-Tarmiya is a "peaceful town that rejects terrorism", Iraqi MP Ahmed al-Mashhadani told Diyaruna, describing those demanding its depopulation as "outliers".
Kadhemi ordered the 7th Military Division's 27th Brigade to move from Anbar's al-Baghdadi district to al-Tarmiya to support Iraqi forces stationed there, Anbar tribal commander Sheikh Qatari Samarmad al-Obeidi told Diyaruna.
He praised the 27th Brigade, and highlighted its recent success in maintaining security and stability in al-Baghdadi district and the surrounding areas.
Tribesmen call for local regiment
Tribal sheikhs and prominent figures in al-Tarmiya have called for the formation of a military regiment comprised of local residents in order to take control of the security of their own town and district.
Sheikh Mohammed al-Mashhadani, a prominent local figure, told Diyaruna the people of al-Tarmiya demand the formation of this regiment "in order to prevent the recurrence of security breaches".
He cited an old adage, "The people of Mecca are most familiar with its nooks and crannies", to stress that locals should be responsible for their district's security.
The government had previously pledged to form the regiment, and tribal leaders submitted names of individuals, only for their list to be rejected, he said.
The people of al-Tarmiya reject terrorism, he said, as many have suffered its ill consequences and "every household has lost at least one member to terrorism".
He called on Kadhemi to bear that in mind, and to work towards creating a special regiment for al-Tarmiya.