Renowned extremism expert Hisham al-Hashemi was shot outside his home in Baghdad on Monday (July 6th) and died shortly thereafter at a local hospital.
Al-Hashemi was an authoritative voice on extremist factions including the "Islamic State of Iraq and Syria" (ISIS), but was also frequently consulted by media and foreign governments on domestic Iraqi politics and Iran-backed Iraqi militias.
He had warm ties with top decision-makers, including President Barham Saleh, but was also trusted by rival parties and armed groups, which used him as a mediator.
The investigator assigned to the killing told AFP that al-Hashemi, 47, walked out of his home in east Baghdad and was getting into his car when three gunmen on two motorcycles fired at him from metres away.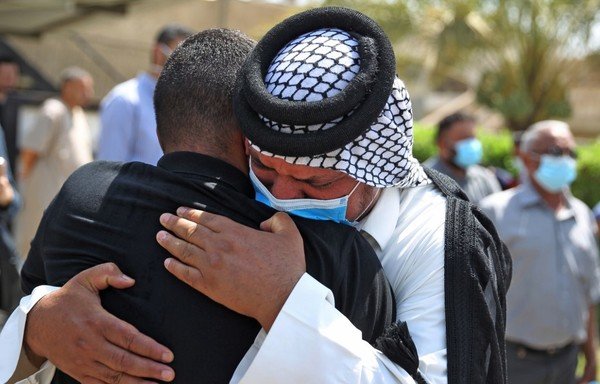 Al-Hashemi was wounded and ducked behind his car, but the gunmen approached and shot him four times in the head at close range, the investigator said.
A medical source at the hospital confirmed to AFP that al-Hashemi had suffered "a hail of bullet wounds in several body parts".
"He passed away and his body is now in the hospital freezer," said Saad Maan, head of the ministry's media relations department.
No stranger to threats
Raised in Baghdad, al-Hashemi published several books on extremism, then went on to work with top research centres including Chatham House in London and most recently the Centre for Global Policy in Washington DC.
He had come out strongly in favour of the popular protests that erupted across Baghdad and Iraq's south in October, which had slammed the government as corrupt, inefficient and beholden to neighbouring Iran.
More than 500 people lost their lives in protest-related violence, including several prominent activists who were gunned down in Baghdad, Basra in the south and other cities gripped by the rallies.
High-profile political killings have otherwise been rare in recent years.
But al-Hashemi was no stranger to threats.
Following the attack, activists shared on social media messages by al-Hashemi in which he confirmed that he had received death threats from Kataib Hizbullah, the fiercest pro-Iran militia in Iraq.
His killing has sent shock waves across Iraq. From protestors and activists to foreign ambassadors and the UN, many were quick to mourn him.
"Cowards killed my friend and one of the brightest researchers in Iraq, Hisham al-Hashemi. I am shocked," wrote Harith Hasan, who was an academic researcher before becoming an advisor to Iraq's current premier.
Vocal critic of Iran-backed militias
Al-Hashemi's assassination is a "great loss of a prominent figure who had objective and professional insights on various security issues", political analyst Ghanem al-Aabed told Diyaruna.
He had unique and extensive expertise on the inner workings of armed groups, and strongly supported security forces in their war against terrorism, providing advice, information and intelligence analysis, he said.
The victim also stood out "for his free and bold opinions against the growing influence of the IRGC-backed militia members and their effort to undermine [Iraq's] stability and security", he said.
Al-Hashemi harshly criticised these groups' rocket attacks on government facilities and diplomatic and foreign military missions, pointing to their "disregard for civilian lives and threat to [Iraq's] sovereignty", said al-Aabed.
His assassination "continues the horrific crimes committed since last October by the militias against young demonstrators and activists", he added.
Iraqi members of the deep state who carry out Iran's agenda want through these assassinations "to plunge Iraq into chaos and spread terror in order to silence the voices calling to establish the rule of law and to end the illegal possession of weapons", he said.
Al-Aabed called on Prime Minister Mustafa Kadhemi to "use his legal powers and responsibilities to curb these groups' influence and illegal activities", stressing that there is popular support for any step in this regard.
'Act of cowardice'
Kadhemi swore he would hold al-Hashemi's killers to account.
"We vow to his killers that we will pursue them so they are justly punished. We will not allow assassinations to return to Iraq for a single second," Kadhemi said in a statement.
"We will make every effort to limit weapon possession to the state alone and allow no force to be above the rule of law," he said.
The UN's top official in Iraq Jeanine Hennis-Plasschaert slammed the killing as a "despicable act of cowardice.
"Our heartfelt condolences to his family and loved ones. I call on the government to quickly identify the perpetrators and bring them to justice," she wrote.
Al-Hashemi has written several books on radical groups, including "The World of ISIS" and "ISIS From The Inside", in addition to hundreds of articles and studies, the latest of which was a study that highlighted the escalating disagreements between Popular Mobilisation Forces (PMF) factions.