Activists and journalists taking part in or covering the protests in Iraq continue to be targeted, in what appears to be an effort to silence criticism of Iran's interference in Iraq, experts told Diyaruna.
On April 5th, gunmen stormed the al-Nasiriya province home of activist Anwar Jassim Mahwous, known as Um Abbas, and opened fire, killing Mahwous and wounding her two sons.
Mahwous was a prominent activist who is well known for her active participation in the demonstrations and for preparing food for the protestors.
Her assassination was the latest in a series of similar attacks that have occurred since the protests began in October.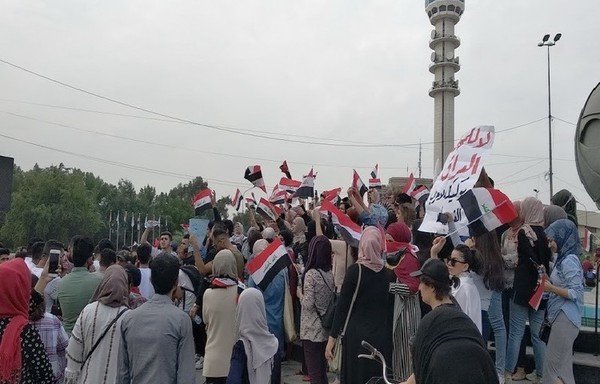 Observers accuse Iran-backed militias of being responsible for these incidents.
"Armed militias are behind these selective assassinations," Iraqi international relations expert Hilal al-Obaidi told Diyaruna.
They view activists and journalists who support the Iraqi public's rejection of Iran and its agents' influence in Iraq "as a source of threat that must be countered with violence", he said.
Killing opponents and terrorising people "is the only modus operandi these armed groups embrace", al-Obaidi said.
They do not even care about the novel coronavirus (COVID-19) threat, he said. "On the contrary, they are exploiting the pandemic to commit more barbaric crimes against innocent people and continue to implement their terrorist agenda."
Less than a month before Mahwous was killed, artist Abdul Qaddous Qasim and lawyer Karar Adil were assassinated in the Maysan province city of al-Amara.
Secret detention centres
"The assassinations are being executed by influential Iraqi militias, the most prominent of which are Kataib Hizbullah and Asaib Ahl al-Haq," political analyst and researcher Abdul Qader al-Nayel told Diyaruna.
Acts of violence have been disproportionately directed against activists in the southern provinces as a result of the public denunciation of Iranian meddling and the corruption of militias and political parties linked with Iran, he said.
The goal behind these crimes is to "silence voices and spread fear", he said.
"The militias do not want Iraqis to raise their voices and express their anger about the infringement on their rights, depletion of their economy for the benefit of Iran, and undermining of their sovereignty," al-Nayel said.
Iran-aligned groups now operate secret prisons and detention centres in the neighbourhoods of Sadr al-Qanat and al-Dora in Baghdad, in addition to Jarf al-Nasr, previously known as Jarf al-Sakhr, he said.
"These centres are filled with civilians who were persecuted and detained without legal warrants or charges," he said, noting that some have died in these centres because of torture and the poor conditions of the facilities.
Targeting journalists
In addition to the 27 activists who were killed, 42 activists have been abducted by unidentified groups. These include two prominent journalists, Tawfeeq al-Tamimi and Mazin Lateef.
The abductions are part of a campaign of repression the militias are conducting against protest leaders and journalists who have criticised the heavy-handed response, political analyst Alaa al-Nashou told Diyaruna.
These militias readily resort to killing journalists, he said, citing the January assassination of Tigris satellite channel correspondent Ahmed Abdul Samad and photographer Safaa Ghali as they were covering protests in Basra.
Iran's agents want to protect their economic and political interests against any sort of movement that demands the rights of the masses and wants to impose the rule of law and limit weapons to the hands of the state, he said.
They encourage chaos, as that guarantees their survival and enables them to continue their illegal activities, al-Nashou added.
These people should not continue to defy the law with impunity, he said. "The relevant authorities should open transparent and just investigations to punish perpetrators responsible for assassinations and abductions."