BAGHDAD -- Hundreds of Iraqis gathered Sunday (July 18) in Baghdad and Nasiriyah to demand that authorities hold the killers of dozens of activists to account for their crimes.
More than 70 activists have been targeted by assassinations, attempted murders and abductions since a protest movement erupted in Iraq in 2019, with many pointing the finger of blame at Iranian proxies.
Iraqi Prime Minister Mustafa Kadhemi on Friday announced the arrest of four suspects in the shooting of prominent academic and government adviser Hisham al-Hashemi a year ago.
Iraqi state television broadcast brief clips of the alleged confession of police lieutenant Ahmed al-Kenani, who said he used a pistol to murder al-Hashemi.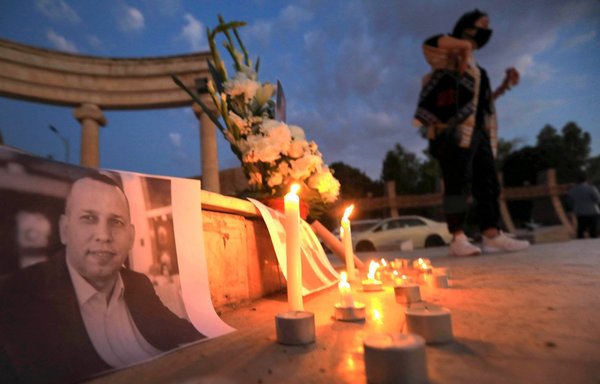 Surveillance footage of the attack shown on state television purports to show al-Kenani carrying out the killing with three others, riding on two motorcycles.
A security source said al-Kenani was affiliated with Kataib Hizbullah, the fiercest pro-Iran militia in Iraq.
Al-Hashemi had criticised Kataib Hizbullah in his writings and media commentary.
After he was killed, activists shared on social media messages in which he confirmed he had received death threats from the militia.
The protestors chanted against "political parties, traitors and militias" as others tearfully remembered their assassinated comrades.
One of the protestors, a young female student, lambasted the presence of "militias and Iranian intrusion in Iraq".
Holding perpetrators accountable
Earlier this month, dozens gathered in central Baghdad to remember al-Hashemi, holding pictures of the researcher and lighting candles.
Thousands took to the streets in May to demand justice over the wave of deadly attacks on activists and journalists.
Al-Hashemi, who was a specialist on extremism and a government adviser with a vast network of contacts among top decision makers, was shot dead outside his Baghdad home in July 2020 by gunmen on motorcycles.
The academic had become outspoken against powerful Iran-aligned militias that have been widely blamed for rocket and other attacks against international coalition interests and foreign diplomatic targets in Iraq.
His support for popular protests that erupted in 2019 against government corruption and the malign influence of Iran infuriated Iran-backed Iraqi militias.
The Friday announcement marks the first reported arrests over the murder.
In a post on Twitter, Kadhemi noted that the pledge to capture al-Hashemi's killers had been fulfilled.
The arrests represent "a positive step towards establishing accountability and ending impunity", Iraq's Independent High Commission for Human Rights spokesman Ali al-Bayati said Friday.
"We hope that all perpetrators are held accountable," he said.
'Hundreds of arrests'
On Friday, Kadhemi also announced the arrest of "hundreds of criminals -- murderers of innocent Iraqis".
But Hussein al-Faili, an 18-year-old student taking part in the protests at Baghdad's Firdous Square, said Friday's arrests were not enough.
"We want the big man who ordered the murder," al-Faili said.
An Amnesty International researcher called for the investigation into al-Hashemi's murder to extend to the highest levels of responsibility.
"A TV confession... is not a substitute for a proper trial based on solid evidence of who ordered the killing -- not just who pulled the trigger," Donatella Rovera said.