Iraqi forces on Tuesday (June 2nd) launched the "Heroes of Iraq - Victory of Sovereignty" military operation to clear areas in south-west Kirkuk of "Islamic State of Iraq and Syria" (ISIS) remnants.
The operation will also secure ​7,000 square kilometres along the administrative borders separating the provinces of Kirkuk and Salaheddine.
Large units of the Iraqi army, federal police and supporting forces launched the new campaign from five fronts under heavy air cover.
Three ISIS rest-houses have been destroyed so far, as well as dozens of improvised explosive devices (IEDs), rockets and mortar bombs.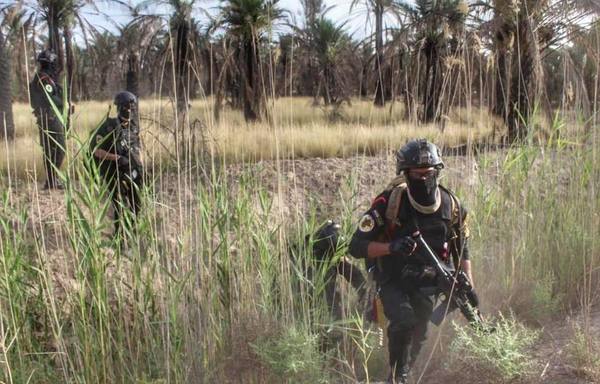 Prime Minister Mustafa Kadhemi on Tuesday visited the units carrying out the campaign, announcing that security forces "will continue to pursue terrorist ISIS remnants... to enhance security and stability throughout the country", according to a statement by the prime minister's office.
Clearing remote areas
The areas targeted by the military operation have seen numerous security breaches over the past few weeks.
The operation aims to "break the enemy's back and defeat it after it has recently tried to step up its terrorist activities", Maj. Gen. Tahseen al-Khafaji, a spokesman for the Joint Operations Command, told Diyaruna.
ISIS remnants in Wadi al-Shay, the Hamreen Hills and the farmlands stretching from southern and western Kirkuk to Salaheddine province "believe we will not be able to reach them in those remote areas", he said.
"Our forces will chase them in all valleys, river islands and hills, and will eliminate them," he said, citing recent successes in cutting ISIS's logistics support lines in the western Anbar desert and Ninawa.
Large military units are currently deployed in Kirkuk province to accomplish the tasks assigned to them, said al-Khafaji. "We are able to defeat the enemy remnants and maintain the safety and security of citizens."
The military operation coincided with missions carried out Tuesday by the Counter-terrorism Service's 1st and 2nd special operations commands, backed by the Iraqi army and coalition aircraft, in Hatra desert in Ninawa, Jurf al-Sakhr, and areas south and south-west of Baghdad.
During these missions, terrorist caves, tunnels, and rest-houses were destroyed, and the militants inside them were killed, the CTS said in a statement.
Two militants were also arrested, and IEDs, shells, explosive belts and gun silencers were destroyed, it said.
Iraqi forces in February launched the first phase of the "Heroes of Iraq" campaign, searching an area of ​​more than 26,000 square kilometres in the desert adjacent to the borders with Syria and Jordan.