Iraqi forces on Saturday (July 11th) launched the fourth phase of the "Heroes of Iraq" military campaign to clear eastern Diyala province of "Islamic State of Iraq and Syria" (ISIS) remnants.
The operation, which covers an area of ​​approximately 18,000 square kilometres, focuses on combing the border strip with Iran and the areas separating federal forces from the Kurdish Peshmerga, which ISIS had previously exploited to gain a foothold.
The targeted areas have a complex topography, and fighting there requires special military capabilities, Maj. Gen. Tahseen al-Khafaji, a spokesman for the Joint Operations Command, told Diyaruna.
The diverse terrain and dense vegetation "give terrorists the opportunity to hide and establish safe havens for themselves", he said.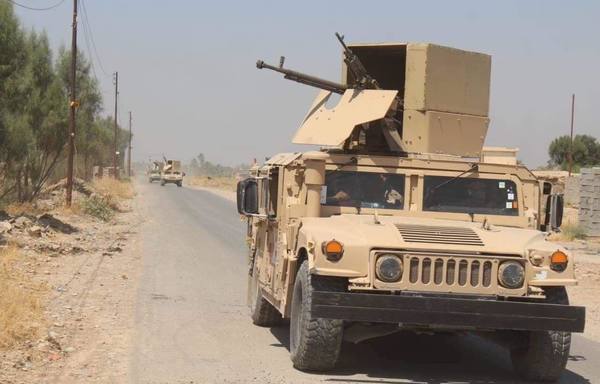 As a result, the new military campaign is "significant and will have a major impact on the security of the country", he added.
Major co-operation
Forces from the Counter-Terrorism Service (CTS) and the Rapid Response Division, as well as units from the federal police, army and tribal mobilisation forces are taking part in the campaign, said al-Khafaji, adding that CTS forces from the province of Sulaimaniya are also involved.
"We are working in co-ordination with them to clear the areas adjacent to the Kurdish region and to fill all [security] gaps," he said.
The forces are backed by heavy air cover from the Iraqi air force, with the army contributing 24 helicopters, he said, adding that coalition warplanes also support the campaign.
Al-Khafaji said the campaign has so far achieved "great results".
"We have reached remote areas that our forces have not entered since 2003," he said, adding that the forces have eradicated ISIS remnants in these territories, establishing full control.
Security forces have "killed three terrorists, arrested a number of wanted individuals, destroyed at least 15 hideouts and rest-houses, and dozens of improvised explosive devices [IEDs] and mortar shells", he said.
They also destroyed various weapons, motorcycles, detonation equipment, and 100 kilogrammes of high-impact C4 explosives.
They have secured Abu Saida district and villages north and west of Lake Hamreen, including Umm al-Ghazlan, Sirha, Siwa, Hassan al-Dhaen, al-Hawra, Omar Mandan, Anjana, Wadi Qasab, Aisha Camp, and Zour Nahr al-Wand.
Securing border crossings
In conjunction with the military campaign, special security forces were deployed at Mandali and Munthiriya border crossings with Iran, east of Diyala province's Khanaqeen district.
The deployment is aimed at combatting corruption and smuggling and upholding the rule of law.
"The [Mandali] border crossing is under the protection of our military forces, who have the right to open fire at anyone who violates the customs area," Iraqi Prime Minister Mustafa Kadhemi said during a visit to Diyala to inaugurate the border crossing Saturday.
He warned of "evil spirits" who blackmail businessmen at the crossing and said they will be "pursued and eliminated".
The effort to restore law and order to border crossings has begun, he said, noting that this is a demand by the Iraqi people and social and political figures.
"There are those who are trying to stir chaos in order to cover up for corrupt individuals, but we will continue our efforts to restore the standing of the state and the law," said Kadhemi.