A top "Islamic State of Iraq and Syria" (ISIS) official was killed in an international coalition airstrike in Syria's Deir Ezzor, Iraqi Ministry of Defence spokesman Brig. Gen. Yahya Rasul announced Tuesday (May 26th).
Coalition aircraft targeted Mutaz Numan Abed Nayif Najm al-Jubouri based on intelligence from Iraq's Counter-terrorism Service (CTS), Maj. Gen. Tahseen al-Khafaji, a spokesman for the Joint Operations Command, told Diyaruna.
Al-Jubouri, also known as Hajji Tayseer, is considered "the most dangerous man in [ISIS]", who held the position of deputy ISIS leader and "wali" of Iraq, he said.
He was also responsible for overseeing the group's activities outside Iraq.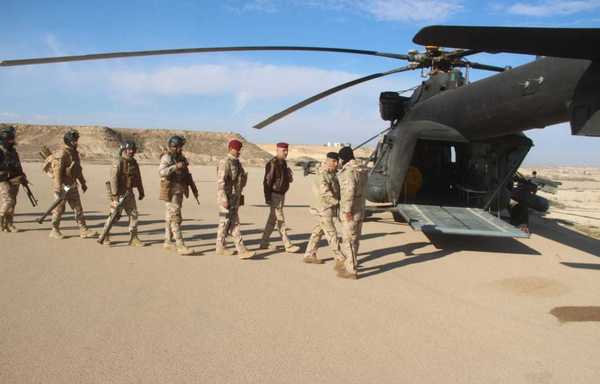 Last year, the US offered a $5 million reward for anyone who could provide information on al-Jubouri, who was said to oversee the manufacture of explosive devices, according to the US announcement.
Identifying al-Jubouri's location and killing him reflects "the collapse of the terrorist system and the downfall of its leaders one by one thanks to our forces' quality intelligence achievements", said al-Khafaji.
ISIS setbacks
The operation coincided with the "arrest of a dangerous terrorist Tuesday in the town of al-Rummana in al-Qaim district [western Anbar] upon his arrival from Syria", al-Khafaji said.
The militant is wanted for trial for taking part in the fight against Iraqi forces in the city of Haditha during the liberation battles, and for participating in the battles in the Syrian border town of Albu Kamal, he added.
Additionally, Iraqi forces in a pre-emptive operation have dismantled a secret terror cell in the Anbar province city of Heet. The cell was involved in funneling money to ISIS remnants.
"The cell was made up of four members, including one woman, who blackmailed and threatened citizens, forcefully taking their money to funnel to the terrorists," said al-Khafaji.
ISIS was also dealt a "painful blow" in a security operation over the past two days in the desert areas of Qabdat al-Ghazlan in al-Rutba district, he said.
A senior ISIS leader was killed in the operation while another militant, who managed to escape, was wounded.
"During the operation, we destroyed a large ISIS base that included rest-houses, improvised explosive devices [IEDs], various weapons, and supplies," said al-Khafaji, noting that the site served as a logistical support centre for weapons and foodstuffs.