Though Iraqi forces have been clearing cities and other areas of mines and unexploded ordnance left behind by the "Islamic State of Iraq and Syria" (ISIS), the threat to civilians who live in remote areas lingers.
Among the most recent victims was a family from al-Sharqat in northern Salaheddine who were on their way to a recreational area near the Makhoul mountains when their vehicle hit an explosive device.
The February 1st incident killed two children outright, and their mother died later at the hospital as a result of her wounds. The children's aunt, the driver of the vehicle and another relative also were wounded in the blast.
The previous day, a woman was killed and another person was injured as an ISIS bomb exploded while they were foraging for truffles in Salaheddine's al-Alam district.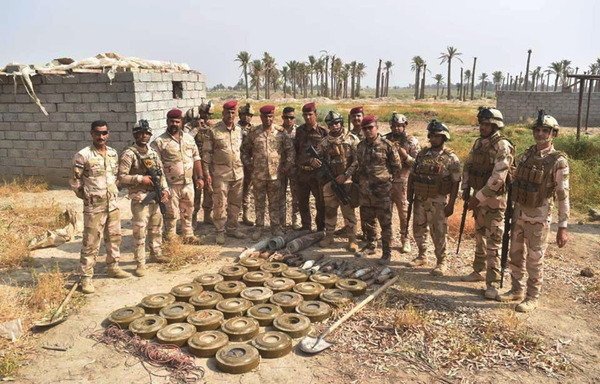 A bomb exploded underneath a vehicle carrying schoolchildren on November 22nd in al-Shura in Ninawa province, killing three and injuring four.
Army is clearing explosives
"The army has removed thousands of tonnes of bombs and explosive devices that were left behind by the terrorists, and has managed to clear contaminated areas," said Ministry of Defence spokesman Maj. Gen. Tahseen al-Khafaji.
Bomb and mine experts at the Directorate for Military Engineering have undertaken significant efforts to remove this threat and to provide a stable environment in the areas reclaimed from ISIS, he told Diyaruna.
"The army is still trying to find and clear minefields and ordnances and destroy militant hideouts that contain these devices on a daily basis," al-Khafaji said.
"However, it is known that this terrorist group has stockpiled and planted explosives in several areas, both systematically and randomly," he added.
It is difficult to identify all the places where explosives might be buried, especially since some were dislodged during recent torrential rains, he said.
"Our efforts to clear the rest of these explosives continues alongside other government and international authorities," he said. "However, we need more support from the international community at the level of training and provision of modern bomb detection devices so we can fulfill the mission."
In addition to clearing explosives, security forces are introducing measures to limit the danger of unexploded ordnance that include placing cautionary signs and warnings in suspected areas and cordoning off the most dangerous areas.
They have carried out awareness campaigns, handing out leaflets and holding seminars and meetings that urge civilians not to tamper with suspicious items.
Iraqi citizens are asked to immediately inform the security authorities about any suspicious objects via these hotline numbers: 120, 130, 115, 104, 138 and 182.
'Avoid contaminated areas'
Following the recent incident in al-Sharqat, the Salaheddine Operations Command reached out to local families, urging them to exercise caution, Lt. Gen. Jumaa Anad Saadoun al-Jabouri told Diyaruna.
"Before this incident, we would always warn locals, and now we reiterate this warning and ask that they steer clear of areas that are contaminated with war remnants and avoid traveling on dangerous dirt roads," he said.
"We want civilians to work with us, and when they see a suspicious item, they should immediately inform us rather than tamper with or inspect it," he said.
Deactivating unexploded ordnances poses a significant challenge since they are randomly planted in rugged, remote terrain, Inad said.
"Security forces have managed to eliminate the danger of ISIS ordnance and mines from the cities," Salaheddine provincial council member Abd Sultan Hamad al-Jubouri told Diyaruna.
"As for mountainous areas, deserts and the wilderness, the danger is still strongly present," he said.
Al-Jubouri stressed the need to focus operations to clear these remnants on remote areas, calling on local residents to follow the guidance and instructions of the security forces in this regard.