Three months after six young men were killed in a land mine explosion near the Basra province town of al-Zubair, the tragedy is still fresh for local residents, who are calling for greater efforts to prevent future incidents of this kind.
The six were killed in January as they walked in the wilderness close to the town and mistakenly entered a minefield.
"It was horrific... we lost some of our finest young men within moments," al-Zubair resident Ali al-Mayahi told Al-Mashareq.
"The town's residents are still hurting from this catastrophe," he said. "We urge government officials to find a practical solution in order to prevent these instances from recurring."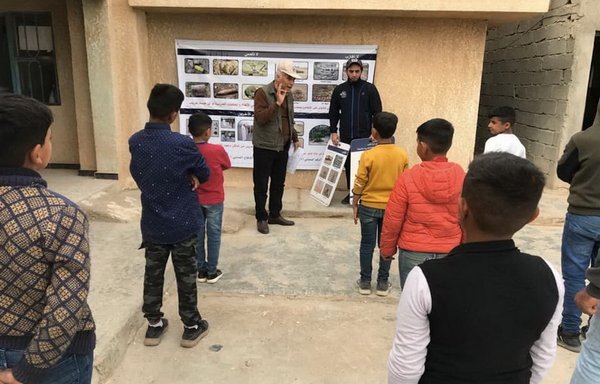 Iraqi authorities say they are working to clear explosive remnants of war and unexploded ordnance with the help of international organisations.
On April 4, the International Day for Mine Awareness and Assistance in Mine Action, Iraqi authorities again warned the public against approaching suspicious objects and to report anything of this nature immediately.
Civilians can report suspicious objects to the toll-free number 182 for the Mine Action Directorate, or the 115 number of the Civil Defence Directorate.
Since the start of this year, according to the Iraqi High Commission for Human Rights, 10 people, including children, have been killed by land mines and improvised explosive devices (IEDs), both exposed and hidden underground.
Last year, 45 people were killed in the same way.
Mine removal has become a complicated process for the government, commissioner Fadel al-Gharrawi said.
Before the "Islamic State of Iraq and Syria" (ISIS) overran swathes of Iraq in 2014, authorities had made progress in clearing mines from large areas of the country.
But during the ISIS era progress was reversed, as the extremist group laid its own mines and made it more difficult to clear existing minefields, he said, adding that wind, rain and floods also move or dislodge these explosives.
Innocent victims
Most mine victims are "shepherds, villagers, hikers and children touching them out of curiosity without knowing what they are", al-Gharrawi said.
Those who survive such incidents "usually suffer permanent disabilities, including the loss of limbs", he said.
In the last five years, according to the United Nations Children's Fund (UNICEF), 519 children have been killed or maimed in Iraq by explosive remnants of war.
In an April 5 statement, UNICEF noted that more than 80% of the injured children are boys, some of whom work in the fields, grazing livestock or collecting scrap metal from buildings destroyed in the war.
A girl and three boys were killed and two others lost limbs in February from explosions caused by war remnants in Baghdad and Babil provinces, the statement said.
According to Iraqi officials, Basra is one of the most mine-contaminated provinces in Iraq, as 6% of it contains unexploded ordnance left behind from the Iran-Iraq war era and from subsequent conflicts.
Another is the Ninawa province city of Mosul, which served as ISIS's de facto capital in Iraq and was destroyed during the battle to oust the group. Mosul's Old City, in particular, is filled with explosives planted by ISIS.
Promising projects
There used to be 6,000 sq. km of land contaminated with mines and explosives in Iraq, Ministry of Environment official Ahmed Abdul Razzaq said.
Now there are 2,700 sq. km: less than half the previous area, he said.
The ministries of environment, interior and defence are taking part in mine-clearing efforts, and the Ministry of Oil is removing remnants of war from oil fields with the help of international organisations.
The United States has provided Iraq with $600 million in mine-clearing aid.
According to the Ministry of Interior, civil defence teams have cleared 17,000 projectiles and explosive materials scattered over 30 areas since January, covering eight million sq. metres in total.
Explosive disposal teams also have defused 500 IEDs in towns liberated from ISIS.
The Ministry of Environment has submitted a plan to the Ministry of Planning, which includes "10 promising projects worth 500 billion IQD ($342 million) to clear mines and explosives from an area spanning 670 sq. km", Abdul Razzaq said.
These projects will help Iraq meet its commitments under the Ottawa Treaty, which bans the production, stockpiling, transfer and use of anti-personnel mines, he said.
"With ongoing efforts, the country could be declared uncontaminated by 2028," he said.