Iraqi anti-mine squads have been working alongside specialised international agencies to remove mines planted by the "Islamic State of Iraq and Syria" (ISIS) before its ouster and other explosive remnants of war, officials said.
In conjunction with these efforts, Iraqi and international teams also have been working to raise awareness about the dangers of explosives.
"We are seeking to increase our efforts to raise awareness among the local civilian population," said Issa al-Fayadh, head of the Directorate of Mine Action.
"Our mobile unit is currently organising several campaigns to alert displaced families and those who have returned to their places of residence about the dangers of explosive devices, mines and war remnants," he told Diyaruna.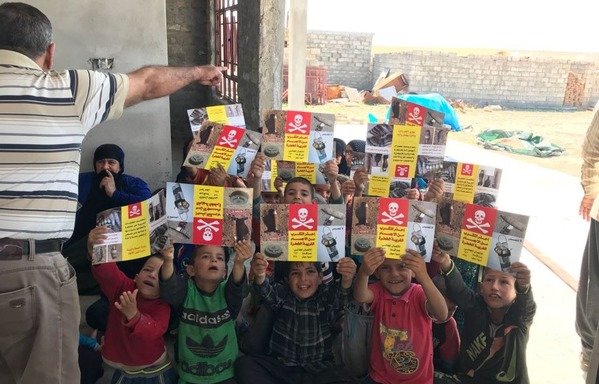 The unit provides guidelines about what to do when suspicious objects are found, he said, and offers a toll-free number (182) residents can call to reach the Directorate of Mine Action.
The Directorate of Civil Defence can be reached via the toll free number (115).
Awareness campaigns, seminars and lectures have been offered at various places of worship, schools and in public spaces, and field visits have been organised to private homes and displacement camps, al-Fayadh said.
Posters and educational leaflets have been handed out as well, he said.
Dismantling explosive devices
Staff from the Directorate of Mine Action and other national and international institutions also have been working to dismantle and de-activate explosive devices that have been hidden underground, al-Fayadh said.
This problem is prevalent, he noted, particularly in Anbar and Ninawa provinces.
"Thanks to our continued and daily efforts to survey and clear the contaminated areas, we have managed to achieve positive results," he said.
"We have managed to neutralise thousands of explosive devices."
ISIS fighters planted explosives everywhere -- in residential areas and amid public infrastructure -- in an attempt to hinder the advance of military vehicles, and later obstruct reconstruction efforts and undermine stability.
Muamar Saladin Abdul Salam, director of the Directorate of Mine Action's northern centre, noted that more than 10,000 explosive devices and mines have been removed from Mosul alone.
The remaining area of contamination in Ninawa province is now limited to around two square kilometres, he told Diyaruna.
"We have made significant progress, and are working day and night to ward off the threat from these remnants and to provide a safer environment for civilians," he said.
"Only recently, many liberated cities were infested with explosives and mines. Now, however, they are clean and bustling with civilian life," he said.
This is largely due to the co-operation among the various entities working to remove explosives, Abdul Salam said.
A co-operative effort
"We are working with the Directorate for Military Engineering at the Ministry of Defence, and the Directorate for Ordnance Removal at the Ministry of Interior" and with a number of specialised international organisations, he said.
These include the Mines Advisory Group (MAG), the HALO Trust, the Swiss Foundation for Mine Action (FSD), Handicap International, the Danish Demining Group (DDG) and Norwegian People's Aid (NPA).
"Not only are we working with these agencies on the removal of mines, but also on joint projects to ensure safety from explosives," Abdul Salam said.
Educational outreach programmes have managed to raise the level of awareness about this issue, encourage people to come forward with information, and prevent them from handling suspicious objects, he said.
All these measures will help to save lives, he said, adding that in spite of these efforts, the threat from explosives still stands.
On November 22nd, a roadside bomb detonated near the Ninawa town of al-Shura, killing four students and injuring seven as they travelled to school.
Earlier in November, torrential rainfall exposed an underground arms cache in the Kilo-160 area of the Anbar desert.
Ministry of Defence spokesman Tahseen al-Khafaji told Diyaruna that after the heavy rain and floods, the army tirelessly worked to rescue those who were affected and keep them out of harm's way.
"We have focused all our rescue efforts on evacuating and helping affected civilians, and we erected earth berms that would prevent water from flowing into their areas and bringing with it hazardous remnants," he said.
Military engineering teams have conducted field surveys to ensure areas are clear of ordnance and to support awareness campaigns for civilians, he said.