A new search for hideouts of "Islamic State of Iraq and Syria" (ISIS) remnants has been launched in Diyala villages and orchards, the Iraqi police announced Thursday (April 2nd).
The new operation comes at the same time as an attack on an ISIS hideout in the town of Bahraz in Diyala killed four of the group's remnants, according to the police.
Units from the Diyala Police Command, Diyala Operations Command and the army's 5th Division on Wednesday embarked on a new security operation to search the province's orchards, said Diyala police command spokesman Brig. Gen. Nihad al-Mahdawi.
The operation covered fertile orchards and crop fields located north of the district of al-Muqdadiyah, the outskirts of al-Waqf basin, and the towns of al-Abbara and Mansuriyat al-Jabal, north-east of the city of Baquba, he said.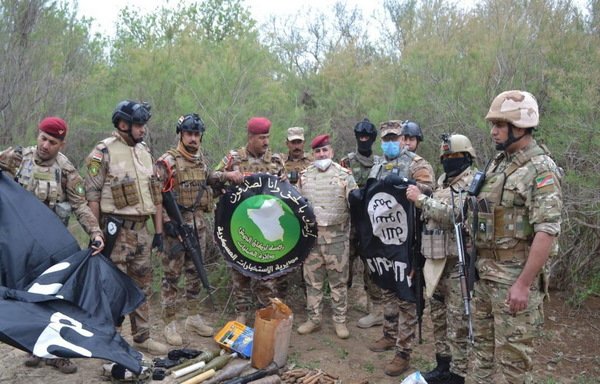 "The increase in security activity in those areas comes after terrorist movements have been recorded in orchards and areas of thick vegetation," he told Diyaruna.
"Terrorists also have attacked and disabled a number of thermal surveillance cameras installed in those areas," he added.
Pre-emptive operations
"This is part of a series of pre-emptive operations that we have carried out over the last few days in order to eliminate ISIS remnants in areas of lax security and to impose the state's authority there," al-Mahdawi said.
Terror activities have been on the decline in the Hamreen hills, he said. As a result, ISIS remnants are trying to find a safe haven in the orchards of Diyala, especially in the al-Zour basin and the outskirts of al-Abbara.
"But we will not give them any chance to survive and will continue to track them down from the air and on the ground, and will hit them wherever they are," he said.
"In conjunction with that operation, a special force from the police's 7th Emergency Brigade and Diyala Intelligence carried out a surprise attack on an ISIS hideout near the town of Bahraz (south of Baquba)," al-Mahdawi said.
The attack led to the killing of four ISIS remnants, he said, adding that two explosive belts were defused, and hand grenades, weapons and military equipment were destroyed in the operation.
Iraqi forces suffered no casualties in the attack, he said.