Industrial activity has resumed in Ninawa province following years of stagnation caused by the "Islamic State of Iraq and Syria" (ISIS) and the battles to liberate the province from the terrorist group, local officials say.
"Factories both in the western and eastern parts of Mosul and other administrative districts were open before 2014, but stopped operating as they were targeted by ISIS and looted and damaged," said Abdul Munim al-Jubouri, deputy director at the Ministry of Industry.
At the end of 2017, a number of public- and private-sector factories in Mosul and its environs started reopening after the rehabilitation of production lines.
Now, many state factories in Ninawa have started supplying their products to the local market and construction companies, al-Jubouri told Diyaruna.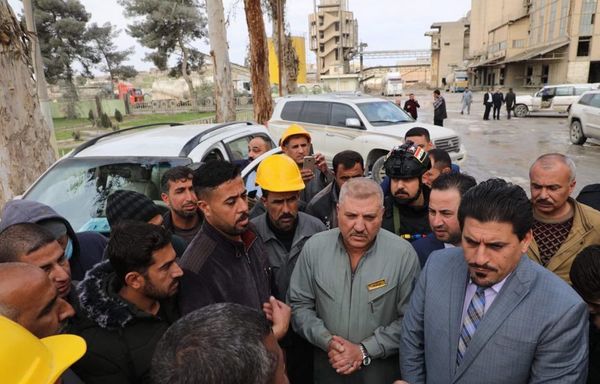 Among the most important of these factories is "the alum production plant in southern Mosul, which resumed production of this material, used in water sterilisation, and now covers local demand for it", he said.
"Cement plants in Hammam al-Alil, both the old and new factories, Badoush and al-Hadba have reopened and are contributing towards meeting the high demand for cement in construction and reconstruction efforts," he said.
Other factories that have reopened include "the agricultural sulphur mill, the pharmaceutical plant, the Bartella sewing factory in the Ninawa Plains region and the General Company for Home Furniture", he said.
Opening the doors for investment
"We are working on opening the doors for investment and encouraging high net-worth individuals to take part in the reconstruction effort and help reopen damaged and shuttered industrial companies and plants," al-Jubouri said.
"Our ambitious plans in this regard focus on moving the wheel of industry forward due to its vital importance in providing job opportunities for the unemployed as well as reducing the need for imports, and thus, reviving the national economy," he said.
Private sector factories have also been rehabilitated and are now back in production, said Hashem Barifkani, a former member of the Ninawa provincial council.
"Privately owned factories that manufacture construction blocks now meet demand in Ninawa province," he told Diyaruna, adding that previously "supplies had to be shipped from Erbil and Dohuk provinces".
Other factories that are now operating include those "manufacturing plastics, windows, construction material and garments, as well as those specialised in food products such as the tahini production plant in Bashiqa, which is considered to be the largest of its kind", he said.
These factories "strengthen the economic structure of fragile communities, especially those affected by terrorism, which contributes towards achieving development and prosperity", Barifkani said.
He called on the government to "support the private sector so that it can stand on its feet once again by providing soft loans for owners of damaged industrial plants as well as addressing the problems they face in terms of electricity and fuel shortages".
Reviving local economies
"It is important to work on reconstruction and revive private factories due to the role they play in boosting local economies that were ravaged by war and terrorism," said economist Saleh al-Hammash.
Ninawa province has "a large number of small- and medium-sized factories that can be described as traditional and, for example, specialise in making pickles, sweets, dairy and agricultural products", he told Diyaruna.
"Helping these factory owners rebuild and develop their businesses is vital in order to fight unemployment and support economic growth in their cities," he said.
While much has been done to rehabilitate and reopen state factories run by the ministries of industry, oil, electricity and housing in Ninawa, more work is needed to bring the factories up to par, he said.
Production of a range of products and industries is "still below expected levels and of substandard quality", al-Hammash said.
He called for promoting investment in the industrial sector in order to increase production lines and introduce new technology and advanced machinery into the manufacturing process to achieve self-sufficiency.
Reconstruction efforts are continuing, said Ninawa Governor Najim al-Jubouri.
Fifteen food processing factories in eastern Mosul are undergoing reconstruction after they were bombed and looted by ISIS, he said in a press statement February 25th.
The factories were cleared of rubble in preparation for reconstruction, he said, explaining that reconstruction will take around 14 months.