Ninawa's industrial sector, which suffered heavy damage and looting during "Islamic State of Iraq and Syria" (ISIS) rule, has been making a gradual recovery since the group was driven out, officials in the province said.
In late August, Ninawa governor Najim al-Jubouri announced the reopening of 10 factories that produce foodstuff including sugar, dairy products and cooking oils, as well as medical and pharmaceutical products.
These factories had been shuttered for four years, he said, due to the damage caused by ISIS and the battles to oust the group from the province.
Al-Jubouri said a reconstruction campaign is under way, and includes plans to repair and restore to service 26 factories that had been destroyed and looted of their machinery by ISIS elements.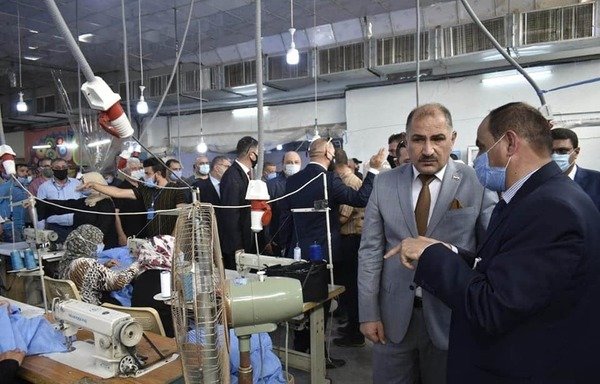 "Numerous destroyed industrial projects have returned to service, and others are under construction or on the way to rehabilitation," first deputy governor of Ninawa Sirwan Rozbiani told Diyaruna.
Local government reconstruction plans have seen large national factories return to operation, notably the cement, spinning and weaving factories, the ready-to-wear factory (Waladi) and the Mosul Dairy Factory, he said.
The Pharmaceutical and Intravenous Solutions Factory also has been restored to operation, he said, as well as the Soft Drinks and Water Factory.
Five sugar production plants in Ninawa Plains, al-Qayyarah and Hammam al-Alil have been restored to service, he added, noting that they currently employ around 800 workers.
Focus on industry
During Minister of Industry Manhal Aziz al-Khabbaz's recent visit to Ninawa, the local government asked him to focus federal efforts on the reconstruction and return to operation of all destroyed factories in the province, Rozbiani said.
The minister expressed his readiness to work towards reviving and revitalising the province's industrial sector, by providing facilities and support for rehabilitation campaigns and opening doors for investors.
There are about 2,000 industrial projects in Ninawa, including 200 large factories that used to supply the Iraqi market with foodstuff and industrial products, he noted.
But most of these projects were completely or partially damaged by ISIS.
Ninawa's industrial sector is gradually returning to previous production levels, Rozbiani said, "but we still have a long road ahead".
He noted that the province has achieved "significant progress" on the path to rehabilitating the cement industry, for which it is famous.
There are six large government factories that produce cement in Ninawa, said Ali Ismat Ali, director of external communications for the Ministry of Industry's Northern Cement Co-operative.
These factories were all knocked out of service after 2014, he told Diyaruna.
Rehabilitation efforts began after ISIS was ousted from Ninawa at the end of 2017, he said, pointing out that today all six facilities are operating at full capacity or even exceeding their previous production capacity.
The expanded Badoush cement plant now produces about 3,600 tonnes of cement per day, for example, he said.
Contributing to reconstruction
The reopened cement factories have contributed towards meeting Ninawa's need for this raw material, Ali said, and have been a major contributor to Iraq's building and reconstruction campaigns.
Of note is the Hadba Cement Factory, he said, which has supplied the Mosul Dam with special, resistant cement "to strengthen the foundation of the dam".
The reopening of the factories also has provided thousands of job opportunities in cement manufacturing, transport of goods and processing, Ali said.
In addition to its enormous agricultural resources, Ninawa was once considered "the heart of the Iraqi national industry", said Abdul Rahman al-Mashhadani, who teaches economic relations at the Iraqi University.
This is because the province is home to many small, medium and large industrial projects and businesses, he told Diyaruna.
These businesses had a significant economic impact, he said, as they were able to meet the local population's needs for various goods and commodities and reduce dependency on imports.
A revival of the industrial sector will ease the unemployment crisis, al-Mashhadani said, noting that the jobless rate has risen from 14% to 36% over the past several years as a result of the devastating impact of terrorism.
"Operating the factories means more job opportunities and sources of income for citizens and thereby, improving their standard of living and social conditions as well as reducing poverty and illiteracy rates," he said.