Anbar's local government on Monday (December 2nd) invited investors to help fund the reactivation of major industrial plants that were knocked out of service by "Islamic State of Iraq and Syria" (ISIS) sabotage.
"All the plants that have stopped production have been put up as promising investment opportunities for local and foreign companies," Anbar investment authority head Mahdi al-Nouman told Diyaruna.
Companies are being invited "to compete for their reconstruction and return to service at full production capacity", he said.
The investment plan includes the rehabilitation of all large factories in the province that were affected by ISIS sabotage and looting, al-Nouman said.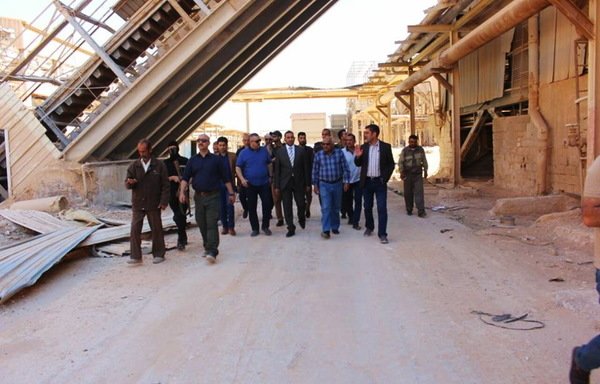 Anbar has several major industrial facilities, including al-Qaim phosphate plant and cement plant, the Fallujah ceramics plant, asphalt plants in the cities of Anah, Rawa and Fallujah, and the Ramadi glass factories.
Many of these plants sustained significant damage at the hands of ISIS, he said.
Investment opportunities
The first and largest of the reconstruction projects being opened to investors is the phosphate plant in the border town of al-Qaim, al-Nouman said.
This is being presented as an investment opportunity for specialised international companies, in co-ordination with the Ministry of Industry and Minerals, at a total cost of about $1.2 billion, he said.
Before it sustained damage, the phosphate plant used to have a production capacity of 700,000 tonnes a year, he said.
The goal is to achieve an initial production capacity of 300,000 tonnes a year that will gradually increase over time, he added.
While ISIS was in control of al-Qaim, he said, it destroyed large parts of the plant and stole most of the machinery and electrical and mechanical equipment.
These were sold in Syria, he said, noting that ISIS used the facility as a place to rig vehicles with explosives and manufacture improvised explosive devices (IEDs).
Some factories have been rehabilitated and brought back to service this year, including the cement production plant in the town of Kubaysa, al-Nouman said.
That plant resumed work in August at full capacity, and its production currently covers a large part of the local market's needs, he said.