Retaliatory US airstrikes on Thursday night (March 12th) targeted five weapons facilities on the outskirts of Baghdad operated by Iran-aligned Iraqi militia Kataib Hizbullah, a top US military commander said Friday.
The sites were known to contain "advanced conventional weapons provided to Kataib Hizbullah by Iran", US Central Command commander Gen. Kenneth McKenzie said during a press briefing at the Pentagon.
The strikes were "designed to degrade Kataib Hizbullah's ability to conduct significant strikes" in the wake of a Wednesday attack that killed two US citizens and a Briton, he said, presenting graphics of the sites' locations.
"We are confident we have effectively destroyed these facilities," McKenzie said, noting that the strikes on the militia's weapons facilities send a "clear and unambiguous signal that we will not tolerate this behaviour in the future".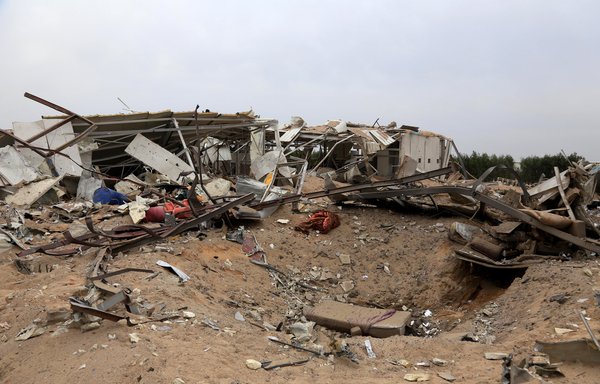 "These weapons storage facilities include facilities that housed weapons used to target US and coalition troops," the Pentagon said in a Thursday statement.
The strikes were "defensive, proportional, and in direct response to the threat posed by Iranian-backed Shia militia groups who continue to attack bases" hosting troops that are part of the international coalition, it added.
US Secretary of Defence Mark Esper said the US "will not tolerate attacks against our people, our interests or our allies".
"As we have demonstrated in recent months, we will take any action necessary to protect our forces in Iraq and the region," he said in a statement.
Esper had earlier warned that "all options are on the table" to respond to the death of the three soldiers, killed Wednesday in a barrage of about 18 rockets on the Taji airbase north of Baghdad.
'We are going to strike back'
Troops from the US and other countries battling the "Islamic State of Iraq and Syria" (ISIS) as part of Operation Inherent Resolve reside at Taji airbase.
They have been targets of previous attacks attributed to Iran-backed militias.
Wednesday's attack on Taji was the 22nd on US installations in Iraq, including the US embassy, since late October.
In addition to the three casualties, 14 others were wounded in the attack, including US, British, and Polish citizens.
"If we are struck, we are going to strike back," McKenzie said Friday.
US forces are in Iraq at the invitation of the Iraqi government, he stressed, and are "in constant communication with the Iraqi government about intelligence that we have and that they have about Kataib Hizbullah and their locations".
"We consulted with them in the wake of the (Wednesday) attack: they knew that a response was coming," he said.
British Foreign Secretary Dominic Raab on Friday said "the response to the cowardly attack on coalition forces in Iraq has been swift, decisive and proportionate".
"We will continue working with our partners to ensure those responsible for these deplorable acts will be held to account."
'Specifically a US operation'
According to a US official, the targets of Thursday's strikes were logistics nodes and drone storage units.
"The strikes began at 1 a.m. local time, using various kinds of aircraft," the official said, adding that it was specifically a US operation.
McKenzie said the strikes had been carried out by manned fighter aircraft but declined to reveal where they were based or the type of weapons used.
An Iraqi security source said that five heavy missiles hit the Jurf al-Sakhr area south of Baghdad, which is controlled by Kataib Hizbullah.
The explosions shook nearby homes and Iraqi military forces there were placed on alert, the Iraqi source said.
The Iraqi military on Friday said the strikes had killed one civilian and five security personnel and wounded 11 Iraqi fighters, some critically.
In his Friday briefing, McKenzie noted that fatalities were expected, but said US forces were still "assessing damages on the targeted sites".
"I would say that it is not a good idea to position yourselves with Kataib Hizbullah in the wake of attacks on Americans," he said, in response to a question about non-militia casualties.
US-Iran tensions remain high
Wednesday's rocket attack had sparked fears of a fresh escalation of tensions between the US and Iran.
The two sides came close to war in January after a series of tit-for-tat strikes that began with the death in December of a US contractor.
Two days later, the US responded by bombing Kataib Hizbullah, killing at least 25 of their fighters.
The militia then stormed the US embassy in Baghdad, causing light damage.
On January 3rd, the US retaliated by killing top Iranian military commander Qassem Soleimani -- whom the US says has orchestrated the rocket attacks -- and PMF deputy chief Abu Mahdi al-Muhandis in a drone strike.
Iran answered back with a volley of missiles at the western Iraqi base of Ain al-Asad. While no personnel were killed in that attack, dozens of US soldiers suffered brain trauma.
"I think that the threat remains very high," McKenzie said. "I do not think that tensions have gone down."