The Iraqi Ministry of Interior is taking measures to prevent the "Islamic State of Iraq and Syria" (ISIS) from using social media as a tool to spread extremist propaganda and influence society.
The ministry announced on January 29th that it shut down hundreds of social media accounts and digital platforms, most of which belonged to ISIS members, that were spreading rumours that pose a threat to peace.
At the same time, the ministry is working on a comprehensive awareness campaign for citizens on the dangers of disinformation.
Malicious rumours quashed
The ministry has been working for a long time to protect society against the dangers of rumours, especially those that are spread by terrorists, said Col. Ziyad Muhareb al-Qaysi, director of the ministry's Department of Anti-Rumours.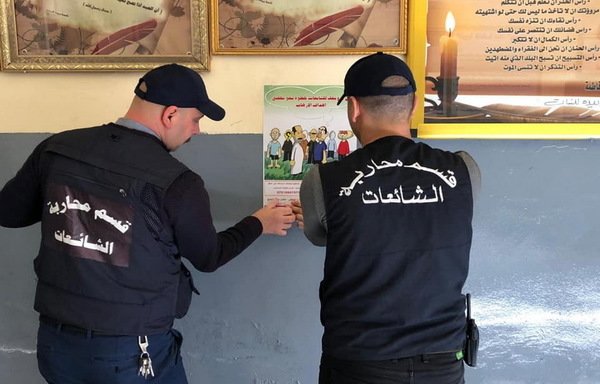 The ministry's efforts are primarily directed towards combating rumours that are spread electronically as well as through various media channels or by word of mouth, he told Diyaruna.
"Our work focuses on investigating and monitoring the source of rumours with the help of other security agencies, such as the intelligence and national security services, and putting in place the necessary intervention procedures to stop their spread," he said.
"Working with the Ministry of Telecommunications over the past year, our ministry shut down no less than 900 online pages and social media accounts using fake names that were sources for malicious rumours," al-Qaysi said.
Most of these pages and accounts belonged to ISIS and other "enemies that do not want the country to be stable and make progress", he said.
"The rumours vary according to their intended purpose," he said. "Some aim at spreading fear, frustration or bringing down morale. This is what terrorists usually like to spread using the internet as it is the most effective channel to reach many people."
Examples of these rumours include the spread of fake news, such as ISIS prisoners escaping, towns falling to ISIS, clashes with militants and heavy losses among the security forces, he said.
There are also rumours intended to "threaten peace, cause unrest throughout the country, destroy the national economy and create an environment that is inhospitable to foreign investment", al-Qaysi said.
Raising awareness
Parallel to this effort, the ministry is also working on raising awareness among citizens.
"We have an integrated programme to educate people on the dangers of rumours and to urge all segments of society to actively fight them," al-Qaysi said.
The ministry "has taken part in building specific awareness programmes across all the ministries as well as working with the Ministry of Education to train 300 teachers and educational guides in Baghdad to raise awareness amongst school students".
"There is a school curriculum that was put together with the help of the Teachers' Syndicate explaining the adverse effects of rumours and their role in destroying societies in addition to putting up posters and advertisements in the streets and public squares that warn against spreading rumours," he said.
Talib Mohammed Karim, vice president of al-Rafidain Centre for Dialogue, said that ISIS "relies heavily on manufacturing rumours and trying to make gains that would serve their destructive interests".
The group resorts to "promoting its rumours online, particularly through social media in order to psychologically influence members of society on a large scale", he told Diyaruna.
"Terrorists are trying to take advantage of online platforms to also promote their extremist thinking so they are able to bounce back," he said.
However, ISIS is losing this ability.
"With the advancement of the Iraqi security institution and its growing expertise in tracking and targeting terrorist networks and cells, ISIS now has a limited capability to take advantage of these outlets," Karim said. "Most of the group's rumours spreading through social media accounts and promotional material have been shut down."
He called for the "reinforcement of social institutions in battling terrorism and raising awareness within families on the importance of renouncing the path of extremism and refraining from believing lies, rumours and misleading ideas".
Closing the door on ISIS
The efforts to stamp out the spread of rumours are "a necessary measure to protect society from threats, the most important of which are the attempts of ISIS to continue harming the public", said Iraqi security expert Mohammed Razzaq al-Rubaie.
He underscored the importance of "closing the door in the face of terrorists and destroying all their media tools".
Shutting down the pages that spread rumours, fake news and ISIS's ideology "is no less important than current military operations to hunt down and crush terrorist elements", he told Diyaruna.