Coinciding with a recent uptick in terrorist attacks throughout Iraq, the "Islamic State of Iraq and Syria" (ISIS) is attempting to spread rumours and propaganda to mislead the Iraqi people.
But Iraq's Counter-Terrorism Service (CTS) has been quick to squash ISIS's lies and Iraqis say they will not be fooled.
ISIS increased attacks at the beginning of May, targeting security checkpoints in remote towns in Diyala and Salaheddine provinces and in the Anbar and Ninawa deserts.
At the same time, a number of social media accounts popped up, spreading false information in an attempt to confuse and demoralise the public, Col. Mousa al-Sanad al-Karbouli, who is in charge of the Upper Euphrates tribal force in western Anbar, told Diyaruna.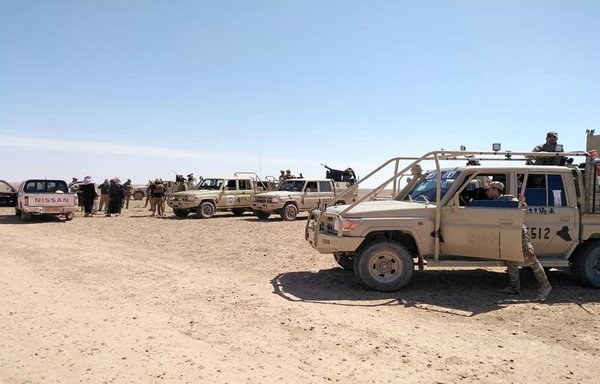 Among the propaganda circulating online are stories that thousands of ISIS members are infiltrating the country from Syria and are being deployed to the desert in western Anbar, especially in the valleys of Horan, al-Qathf and al-Hussainiyat, he said.
This information is "baseless" and is no more than an "effort to spread fear among civilians and put psychological pressure on them and the security forces", al-Karbouli said.
"The border with Syria is very long and although there are thermal cameras, fences and monitoring stations there, you still see incidents where terrorists sneak in every now and then, but this is limited and only happens when weather conditions are bad," he said.
Iraqi security forces "do not allow these infiltrators to stay safe and build secure hideouts for themselves, since the caves and valleys in the depth of the desert areas are thoroughly searched", he said.
The terrorists are much weaker now than at the height of their campaign of violence in 2014 and will not be able to build momentum and raise morale for their latest operations through propaganda and psychological warfare, al-Karbouli said.
ISIS spreading fake news
More than 6,000 social media accounts linked to ISIS's rumour machine have been suspended on Twitter between March 1st and April 30th, the CTS announced via the platform on May 15th.
The CTS noted several instances of ISIS circulating fake news and rumours on social media.
For example, ISIS's propaganda arm published a video screen shot showing the execution of a farmer in Anbar who it said had collaborated with the security forces.
ISIS posted the photo as if it happened this year. The reality is that ISIS recycled the image from 2018, the CTS pointed out in a tweet on May 17th.
The group used the same tactic in another instance, posting the photograph of an innocent civilian accused by ISIS of being a member of the Peshmerga forces captured and killed in 2020. Again, the reality is that the victim appears in another photograph published by the group in 2018, the CTS said.
"The re-running of these incidents as part of recent publications is part of terrorist attempts to confuse the audience... and pressure them psychologically," said CTS spokesman Sabah al-Numan.
ISIS posts old videos, photos, news and fake publications to give its recent operations a bigger impact than it really is, he said, "while they are in fact cowardly operations that take place in remote places, far from security coverage."
"ISIS will not be able to make any gains, as our forces have made a lot of progress in recent years and have a large database on the terrorists and their activities, and people no longer believe their false propaganda," he said.
ISIS cannot turn back time
Other terrorist propaganda includes rumours that ISIS is getting ready to co-ordinate large scale operations to take over new territory, security sources say.
Rumours have been circulated that ISIS members are trying to disarm Iraqi tribes in Anbar by buying them off with large sums of money, which has been denied by official tribal sources.
"This news is false and we have no indication that such incidents have occurred," Joint Operations Command spokesman Maj. Gen. Tahseen al-Khafaji told Diyrauna.
"The terrorist group is in dire financial straits due to the loss of its funding sources and collapse of most of its capabilities, so they are unable to purchase weapons or lure followers with money," he said.
"ISIS gangs have lost their popular base in the cities liberated from terrorism since tribes and the residents of those areas suffered immensely from the injustice and crimes committed by the group in addition to horrific violations, forced displacement and destruction of their neighbourhoods," al-Khafaji said.
ISIS "is still using social media to promote its lies and spread malicious rumours", said Raed al-Fahdawi, a 43-year-old resident of Ramadi.
"People are more aware and able to differentiate between truth and lies and they can no longer be fooled by such things," he told Diyaruna.
"ISIS built itself on lies and deception... and they were successful in expanding by terrorising local residents once, but it won't work every time," said Mohammed Khalil, 39, who lives in al-Zuhour neighbourhood in Mosul.
"ISIS cannot turn back the hands of time," said Ziyad Omar, 32, another Mosul resident.
"People have renounced them and reject their ideology," he told Diyaruna. "We will not be deceived by their news and we are determined to support our armed forces in their mission to crush them."