Syrian regime forces and allied militias have been advancing in the vicinity of the Idlib province city of Saraqeb, gaining control of a number of towns and villages in the area, a local activist told Diyaruna on Monday (February 3rd).
But so far they remain outside the city's administrative borders, Idlib activist Musab Assaf said, noting that instead of advancing on the city, the regime has opted to encircle it.
Saraqeb is strategically located, especially in relation to the city of Idlib, which is the main stronghold of extremist alliance Tahrir al-Sham.
The most recent towns and villages to fall into regime hands include Kafr Battikh and Dadikh in south-eastern rural Saraqeb, Assaf said, in addition to Anqrati, Hazzan, Armanaya and Maar Hattat.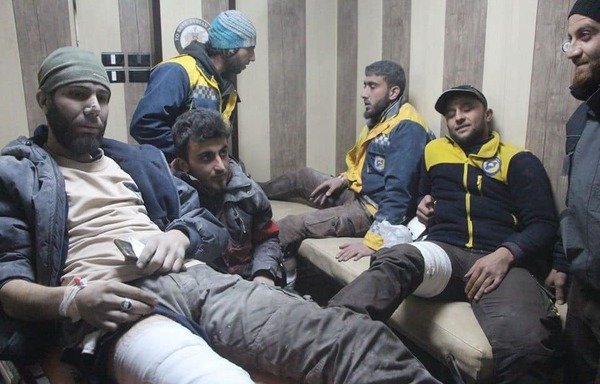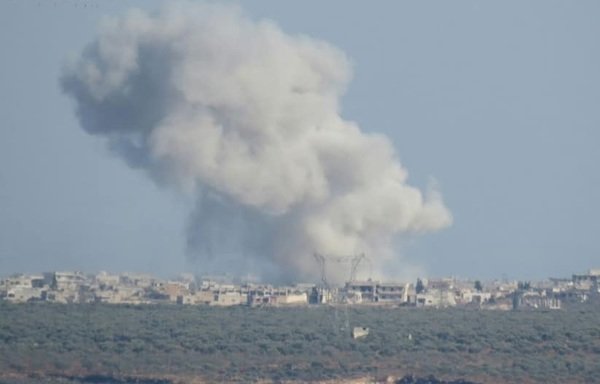 "This is a clear indication that the regime intends to gain control of the main roads in the region, particularly the M5 and M4 highways," he noted.
The M5 highway connects Damascus to Aleppo city via Idlib province.
Saraqeb also sits at the junction of the M4, which runs west-to-east across Idlib, linking the coastal regime stronghold of Latakia to Aleppo.
Fierce fighting is taking place on the Tal Mardikh axis and surrounding areas south of Saraqeb, where Tahrir al-Sham and its allies are amassed, Assaf said.
Russian and Syrian airstrikes and missile barrages are continuing to pound Saraqeb and its environs and are targeting all buildings and facilities, he added.
Hospitals, medical posts and ambulance teams have been targeted, he said, adding that the White Helmets reported that al-Shami hospital had been destroyed, a doctor was killed and at least seven rescuers were injured in a strike on the facility.
On Monday, at least nine civilians were killed in an airstrike on the north-western region, according to the Syrian Observatory for Human Rights.
Fourteen civilians were killed in Sunday raids, it said.
Monday's casualties were all displaced people who died when a missile hit their car as they were leaving a flashpoint area of Aleppo province, the Observatory said, without specifying the origin of the strike.
Friction between Turkey, Russia
There are several Turkish observation posts in and around Saraqeb, Assaf said, which is partly why the regime and its allies stopped short of storming the city.
These were set up in 2018 to monitor the ceasefire, pursuant to an agreement between Turkey and Russia, he said.
"Syrian regime forces were on Monday at least five kilometres away from the city, and this distance had not changed in hours," he noted.
Turkish and Syrian regime troops on Monday traded deadly fire in the region, following an overnight exchange that began with regime shelling on Turkish positions in Idlib, the Observatory said.
Four Turkish soldiers were killed and nine were wounded, despite previous co-ordination on where Ankara's forces would be, Turkey's defence ministry said.
The Russian defence ministry said Ankara had failed to give prior warning of its troop movements at the time of the incident.
Retaliatory rocket attacks by Ankara on regime positions later killed at least 13 Syrian regime troops and wounded 20 others in Idlib, Hama and Latakia, the Observatory said.
Russia 'not honouring' agreements
Turkish President Recep Tayyip Erdogan last week accused Russia of "not honouring" agreements to prevent a regime offensive on Idlib.
He said Monday it was not possible for Turkey to "remain silent" when its forces were being killed, warning Russia not to stand in the way of its response.
A senior Turkish official said the Syrian regime attack on Turkish troops and the regime offensive in general were conducted "with Russian protection".
"Russia should remove this protection from the regime elements which attack Turkish forces in this region," ruling party spokesman Omer Celik told CNN Turk.
On Sunday morning, a Turkish military convoy of hundreds of vehicles entered northern Syria, deploying in Idlib and neighbouring Aleppo province, the Observatory said.
Half of the Idlib region's residents have been displaced throughout the war, with many living in precarious shelters in the countryside along the Turkish border.
Ankara -- which already hosts more than three million Syrian refugees on its soil -- fears the latest fighting will lead to another mass influx.