Russian airstrikes on Thursday (March 5th) killed at least 15 civilians, including a child, in Syria's Idlib province, the Syrian Observatory for Human Rights said, as the leaders of Russia and Turkey met in Moscow to discuss the situation.
The strikes targeted an area where displaced Syrians had gathered outside the town of Maaret Misrin, the Observatory said.
At the site of the strikes, two large buildings lay mostly in rubble near green orchards, and rescuers operated bulldozers to comb through the debris.
The strikes destroyed the poultry farm where the displaced families had been living, and dozens of chickens could be seen picking through the dust.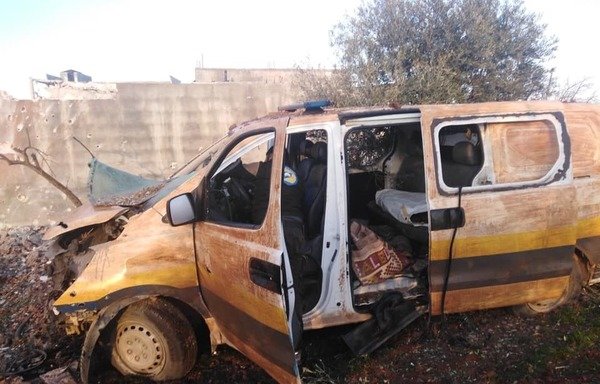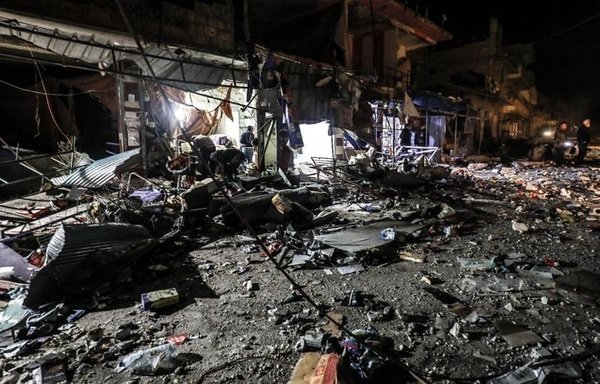 The Observatory said the death toll was likely to rise further as many of the wounded were in critical condition.
Turkey said Wednesday that at least two more Turkish soldiers had been killed in Idlib, after 34 died in an airstrike last week blamed on the Syrian regime.
Turkey launched a full assault against the Syrian regime over the weekend.
It has since downed three Syrian warplanes and killed dozens of regime soldiers and allied fighters -- mostly through drone strikes -- according to monitors.
Civilians killed in airstrikes
Idlib city and other areas of the province have been subjected to sustained Russian and Syrian airstrikes that on Wednesday killed more than 20 civilians and wounded dozens more, Idlib activist Musab Assaf told Diyaruna.
Of this number, nine civilians were killed in the rural Idlib town of al-Foua, he said, and eight were killed in the city of Idlib.
A White Helmets team was hit by a Russian airstrike as they were transporting the dead and wounded, Assaf said.
Meanwhile, Syrian regime forces and allied militias and the Russian military police on Wednesday took control of most parts of Saraqeb, he added.
Fighting is continuing on the outskirts of Saraqeb and in the nearby villages and towns of Afes, San, al-Nairab, Maarat Alia, Abu Arab and al-Salihiya, he said.
Activists have documented the death of at least 70 regime soldiers in Saraqeb and the destruction of a large number of tanks and military vehicles, he added.
Assaf noted that shelling targeting Syrian regime forces has reached areas of Hama, Homs and the edges of Latakia that are outside the main combat zones.
Russian, Turkish leaders meet
Turkey wants Syrian regime forces to cease their assault on the province, and pull back behind lines agreed under a 2018 deal with Russia.
It has long backed some opposition groups fighting against the Syrian regime, but its priority now is to stop another influx of refugees.
Experts say Russian President Vladimir Putin is not looking for a full confrontation with NATO member Turkey but will make it clear that Ankara cannot stand in the way of the Syrian regime retaking full control of the country.
"Victory in Syria has become a matter of prestige for Russia -- and for Putin personally," said Yury Barmin, a Middle East analyst at the Russian International Affairs Council.
Despite supporting opposing sides in the war, Russia and Turkey have worked to try to resolve the nine-year conflict and avoid direct confrontation.
But that relationship has been strained in recent days, with the two sides trading accusations of violating the 2018 deal, which created a buffer zone and allowed for the deployment of 12 Turkish observation posts.
UN special envoy for Syria Geir Pedersen on Wednesday urged Putin and Turkish President Recep Tayyip Erdogan to find an "immediate diplomatic solution" to the crisis "that could spare civilians further suffering".
A senior US official on Thursday urged Europe to support Turkey's military operation in Syria, where it has lost more than 50 soldiers trying to hold back the Russian-backed regime offensive on Idlib.