Turkish President Recep Tayyip Erdogan on Monday (March 2nd) said he hoped to reach a deal on a ceasefire in Syria when he meets his Russian counterpart Vladimir Putin later in the week.
Following weeks of violence in Idlib province, Turkey on Sunday confirmed a full military operation against Russian-backed Syrian forces in north-west Syria after a Thursday airstrike blamed on the Syrian regime killed 34 Turkish soldiers.
But Ankara has insisted it does not want to clash directly with Moscow.
Erdogan's office earlier confirmed he will hold a summit with Putin in Moscow on Thursday to discuss the escalating violence.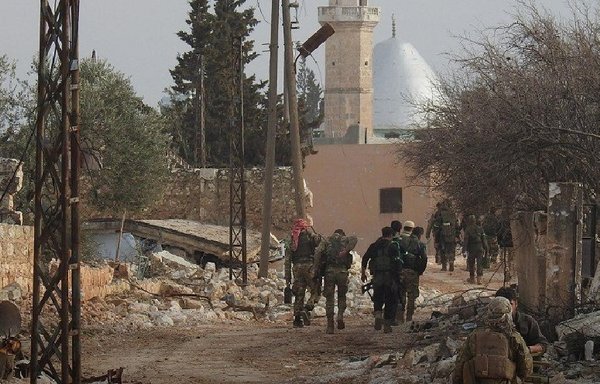 "I hope that he (Putin) will take the necessary measures there, such as a ceasefire, and that we will find a solution to this affair," Erdogan said in a televised speech to members of his party in Ankara.
Meanwhile, the Syrian regime on Monday pledged to repel Turkish forces attacking its Russia-backed troops in Syria, state media reported.
EU foreign ministers are to hold an emergency meeting this week to discuss the worsening Syria conflict, EU foreign policy chief Josep Borrell said Sunday.
The fighting around Idlib "represents a serious threat to international peace and security" with grave humanitarian consequences for the region and beyond, he said in a statement.
The EU "needs to redouble efforts to address this terrible human crisis with all the means at its disposal", he said.
Syrian regime re-enters Saraqeb
Syrian regime forces, with Russian air cover, re-entered the north-western Syrian town of Saraqeb on Monday after losing it days earlier to opposition fighters, the Syrian Observatory for Human Rights said.
But opposition spokesman Naji Mustafa claimed regime forces had only taken part of the ghost town, long emptied of its inhabitants.
The Observatory said the Syrian regime deployed its own forces and allied fighters from Lebanon's Hizbullah as reinforcements to the Saraqeb area late Sunday in preparation for an assault on the town.
Up to 23 opposition and extremist fighters were killed in Russian airstrikes and clashes overnight, Observatory chief Rami Abdel Rahman said.
The Observatory says more than 90 regime soldiers have been killed in Turkish bombardment since Friday, as have 10 allied Hizbullah fighters.
Saraqeb lies at the intersection of the M4 and M5 highways, which connect Damascus and the regime coastal stronghold of Latakia with Aleppo.
Turkey downs two Syrian warplanes
On Sunday, Syrian state media reported that regime forces had shot down a Turkish drone near Saraqeb.
Turkish drone strikes in Idlib province killed 19 regime soldiers on Sunday, the Observatory said, in strikes on a military convoy in the Jabal al-Zawiya area and a base near Maaret al-Numan.
The report came hours after Turkey shot down two Syrian warplanes.
"One anti-aircraft system that shot down one of our armed drones and two other anti-aircraft systems have been destroyed, and two SU-24 regime planes that were attacking our aircraft have been downed," Turkey's defence ministry said.
The two Syrian Air Force SU-24 warplanes were shot down over the Idlib region as they were preparing to carry out airstrikes near Saraqeb, local activist Haisam al-Idlibi told Diyaruna.
Several activists witnessed and documented the downing of the warplanes and the pilots' descent to the ground with parachutes, he said.
In addition to the two warplanes, the Syrian regime and its allies have lost military hardware in the latest battles, he said, including dozens of military vehicles and tanks.
IRGC-aligned militiamen killed
Dozens of militiamen affiliated with the Islamic Revolutionary Guard Corps (IRGC) also have been killed in recent fighting in parts of Idlib, al-Idlibi said.
According to local sources, he told Diyaruna, 12 fighters from Lebanon's Hizbullah are among the dead, and dozens more Hizbullah fighters have been wounded.
There are reports that dead bodies remain trapped under the rubble of buildings that have come under heavy shelling, he said.
Reports in Iranian and local media confirm the death of 18 fighters from the Zainabiyoun militia (composed of Pakistani fighters) and three from the Fatemiyoun militia (composed of Afghan fighters), both of which are backed by Iran, al-Idlibi said.
Local activists have documented the death of dozens of members of the Syrian regime forces, both officers and soldiers, with preliminary reports indicating that more than 50 were killed in the fighting in Idlib, he said.
Many others were killed in artillery shelling by Turkey-backed armed groups and in Turkish shelling and airstrikes carried out by unmanned aerial vehicles (UAVs), commonly known as drones, he said.
These forces have played a critical role in stopping the advance of Syrian regime forces and pro-regime militias, he noted.