Regional experts have roundly refuted an explanation put forward by Iran as to why Islamic Revolutionary Guard Corps Quds Force (IRGC-QF) commander Qassem Soleimani was in Baghdad at the time of his death.
After Soleimani was killed in a US strike on January 3rd, Iranian Foreign Affairs Minister Javad Zarif floated the narrative that the IRGC-QF commander had been in Baghdad on a diplomatic mission.
This story was picked up and amplified by caretaker Iraqi Prime Minister Adel Abdul Mahdi, who claimed Soleimani had come to Iraq in a diplomatic capacity, bearing a message from the Iranian regime to Saudi Arabia.
The Iraqi government had offered to mediate between the two rivals, he said.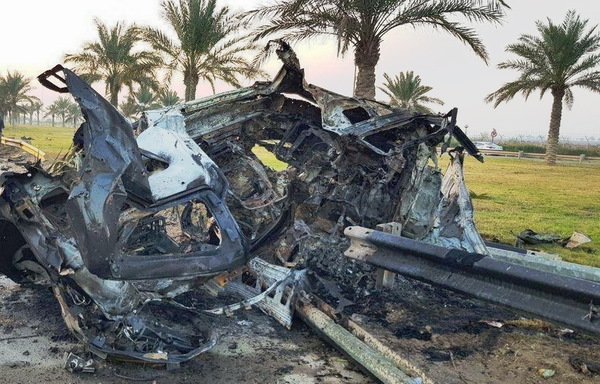 But international leaders and experts in regional affairs have said it is difficult to believe Soleimani would have been in Baghdad on a diplomatic mission.
They noted that he had been the architect and mastermind behind Iran's aggression in the region, via its armed proxies in Iraq and elsewhere, and stressed that the former IRGC-QF commander was no peacemaker.
US Secretary of State Mike Pompeo on January 7th ridiculed Zarif's assertion that Soleimani was on a diplomatic mission while he was in Baghdad:
"Anybody here believe that? Is there any history that would indicate that it was remotely possible that this kind gentleman, this diplomat of great order Qassem Soleimani, had traveled to Baghdad for the idea of conducting a peace mission?"
Pompeo rejected the story that Soleimani was travelling to help with a peace deal backed by the Saudi Arabian government, AFP reported.
"We know that was not true," he said, noting that the Saudis would agree.
Iran behind deadly attacks
Iran is responsible for all the recent missile attacks against Iraqi military bases housing US and international coalition forces and the US embassy in Baghdad, political analyst Anmar al-Duroubi told Diyaruna.
These attacks "were the work of Iran, whether directly or indirectly, via its militias", he said, noting that Soleimani controlled these militias and would have issued the orders.
As Quds Force commander, Soleimani was responsible for the IRGC's external operations and served as the architect of Iranian interference in regional affairs and the mastermind of militia attacks in Iraq and the region, al-Duroubi said.
Soleimani was no "peace dove", he said, noting that his final regional movements appeared to be part of a plan to carry out "complex" operations.
"There are plausible reports stating that he was coming to Baghdad to prepare for a terrorist operation," he said, noting that "this man had no shortage of hostile plans against Iraqis and international interests".
Diplomatic mission 'unimaginable'
Former Iraqi MP Taha al-Lahibi told Diyaruna that he questions those who say Soleimani was on a diplomatic mission during his last trip to Iraq.
The explanation offered by Abdul Mahdi, that Soleimani came bearing a message from the Iranian regime to Saudi Arabia via the Iraqi government, is "hard to believe", he said.
"Soleimani was not a politician but a military general," al-Lahibi noted. "If there was a message, Iran should have addressed the Iraqi government through its embassy in Baghdad."
Were this the case, "Iran's Foreign Minister also could have visited Iraq and engaged with the officials regarding the Iranian response to mediation", he said.
Instead, he added, Soleimani's arrival came within the context of a dangerous escalation, after Iran-backed militias fired missiles on Iraqi camps hosting international forces charged with training Iraqi army members.
A December 27th missile strike on Camp K1 in Kirkuk province killed a US contractor and injured a number of US and Iraqi soldiers, he said.
On December 31st, Iran-backed Iraqi militias attacked the US embassy in Baghdad, he said -- apparently given the green light from Iran.
In these circumstances, it is unimaginable that Soleimani came to Iraq on a diplomatic mission, al-Lahibi said, noting that it is likely he was personally supervising the attacks against the US embassy and other US targets.
Rumours that this Iranian general, whose hands are stained with the blood of many innocent people, had been entrusted with a diplomatic mission are "nothing more than smoke and mirrors", al-Lahibi said.