Local authorities in Diyala province have imposed additional security measures to stave off increasing "Islamic State of Iraq and Syria" (ISIS) threats in the eastern part of the province.
The measures include beefing up the number of deployed security forces, with an army combat regiment deployed to the outskirts of the border district of Mandali in north-east Diyala.
Over the past few weeks, ISIS remnants have launched armed attacks against army and police checkpoints in the Ain al-Sabi, Qara Los and al-Nada areas, Mandali district director Mazen Akram al-Khuzaie told Diyaruna.
They also have deployed snipers and planted roadside bombs in those areas, he said.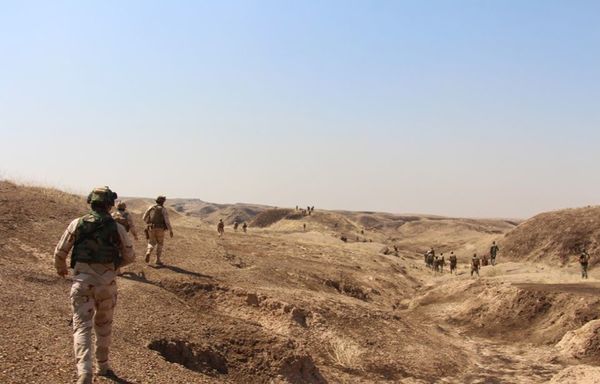 These operations have resulted in the death of at least seven members of the security forces and civilians, he said, adding that others were wounded.
Security forces "immediately responded to these breaches with the help of the civilian population and the local authority", said al-Khuzaie.
'Not always safe'
The locations where ISIS remnants are the most active have been pinpointed and search operations were launched to uncover and destroy their hiding places, he said.
Al-Khuzaie said security forces "have managed to secure all the villages and roads leading to the city of Khanaqeen".
Those areas "are monitored with cameras and reconnaissance devices, and fortified with a large deployment of military units and checkpoints", he said.
Mandali district, like other parts of Diyala, is conducive to harboring ISIS militants who take advantage of its rugged terrain to hide and escape aerial surveillance and detection.
"But they are not always safe and our forces continue to target them with high quality sting operations based on superior intelligence efforts," al-Khuzaie said.
ISIS remnants hide in the area's natural caves and occasionally carry out attacks to make it known that they still exist, Col. Nihad Mohammed Hassan, the police command's media and relations director, told Diyaruna.
In reality, according to intelligence reports, "ISIS remnants are dying, especially after the demise of their leader Abu Bakr al-Baghdadi", he said.
Targeted military campaigns
On the backdrop of the latest security breaches in Mandali, Hamreen and al-Nada basin, high level meetings were held to co-ordinate security efforts among the police, Diyala Operations Command, intelligence and national security services, border patrol and representatives from local authorities.
During these meetings, "terrorist flashpoint areas were pinpointed and commensurate security measures were taken in order to target ISIS elements and provide full protection for villages and city outskirts", said Hassan.
"Our measures involve the formation of a crisis cell headed by the Intelligence Director of Diyala that is responsible for immediately passing on intelligence on any terrorist movement or activity to all security operation units," he said.
This leads to quick, intensive missions to target and eliminate terror hotbeds, he added.
Security forces have been instructed to conduct round the clock search operations, reinforce military deployment, and erect fortifications and defence lines, Hassan said.
This is in addition to using remote surveillance and reconnaissance techniques, he said.
Diyala provincial council member Sajid al-Anbaki expressed support for any new security measures that lead to enhanced stability throughout the province.
Some of the mountainous and agricultural terrain, as well as the outskirts of villages and towns, still have lax security, "which is why targeted military campaigns have to be conducted there", he told Diyaruna.
Al-Anbaki underscored the importance of increasing collaboration with local residents in order to enhance intelligence efforts and pre-emptive operations in the war on terror.