Heightened security measures and ongoing campaigns have seen results in the rugged Mutaybija region between Salaheddine and Diyala, where the "Islamic State of Iraq and Syria" (ISIS) presence is in decline, Iraqi officials said.
Since mid-2018, Iraqi forces and the Counter-Terrorism Service (CTS) have engaged in sweeping operations to improve security in the region.
The Diyala and Salaheddine operations commands have teamed up with local police forces in both provinces to launch several campaigns to target ISIS remnants and their rest-houses and weapons depots.
"The counter-terrorism forces have launched several special operations that succeeded in dismantling sleeper cells" in Mutaybija and other areas, CTS spokesman Sabah al-Numan told Diyaruna.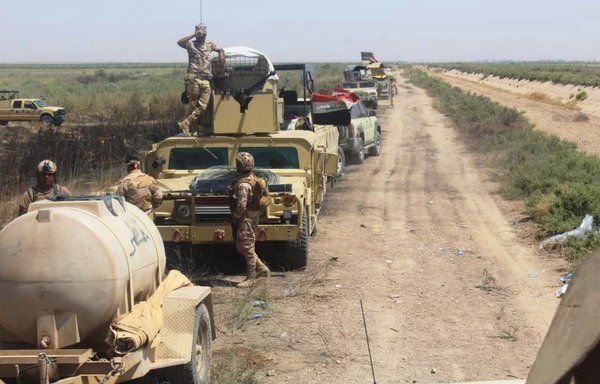 In a February 14th operation, carried out with air cover from the international coalition, a force from the 2nd Regiment of the CTS launched a surprise attack on an extremist cell that had been holed up in a guesthouse.
"The rest-house was in a secret and rugged part of Mutaybija that is not accessible by military armoured vehicles," al-Numan said.
"The offensive force killed six important ISIS leaders who were inside the rest-house at the time of the attack," he said, adding that the structure was later destroyed by the international coalition.
The ISIS elements were local leaders who had been preparing to carry out suicide attacks in Diyala and Kirkuk provinces, he said.
Targeting ISIS hideouts
"ISIS is trying to unite its remaining elements by taking advantage of the rugged terrain of Mutaybija," al-Numan said.
"But our forces are firmly confronting their movements via high-level missions, aerial reconnaissance operations and intelligence exchange with the international coalition," he said.
Since the beginning of the year, Iraqi forces have destroyed 16 ISIS rest-houses in remote parts of Baiji in Salaheddine, and al-Thirthar Lake and the al-Qaim desert in western Anbar, he said.
"The security situation in [Mutaybija] is better than it was several months ago," Salaheddine provincial council security committee chairman Sabhan Mullah Jiyad told Diyaruna.
"ISIS elements are significantly less active, thanks to the intensive efforts of the security forces and their success in taking control of large swathes of this strategic area," he said.
Mutaybija is close to several cities, including Samarra, Balad and Tikrit.
Jiyad praised "the deployment of forces and their efforts to secure the area and build defence and surveillance lines, particularly in the region that lies between the mountains of Hamreen and Makhoul".
But extremist elements are still hiding in mountain caves and valleys, he said, and remain a source of threat for areas that lie between the administrative borders of Salaheddine, Diyala and Kirkuk provinces.
Security plan required
"ISIS has lost several of its members that were hiding in Mutaybija as well as in the mountains and wilderness of Hamreen and Makhisa," said Diyala provincial council security committee member Sajid al-Anbaki.
"Our estimates indicate there are around 150 terrorists who are secretly moving between these areas," he told Diyaruna, explaining that these remnants do not appear to be capable of mounting large-scale attacks on the cities.
Instead they engage in terrorist activity "such as sniper shootings, planting improvised explosive devices (IEDs) and kidnappings", he said.
Al-Anbaki stressed that eradicating ISIS remnants "requires a solid security plan that includes search and tracking operations" as well as further military deployment to various trouble spots.
Other measures should include an increase in the number of reconnaissance missions, he said, as well as enhanced intelligence work and confidence building measures with the local population, in addition to civilian arms control.