Iraqi forces on Wednesday (August 7th) killed four "Islamic State of Iraq and Syria" (ISIS) elements who were planning Eid al-Adha attacks, the Diyala police command said.
A joint security force from the Intelligence and Counter-Terrorism Directorate and the Iraqi army's 5th Division killed the militants in Qazlaqiz mountain in Mandali district, eastern Diyala province, following a raid on their hideout, the police said in a statement.
"The terrorists, one of whom was wearing an explosive belt, were planning to disturb the security of the province," it said.
The operation led to the injury of a member of the Intelligence and Counter-Terrorism Directorate.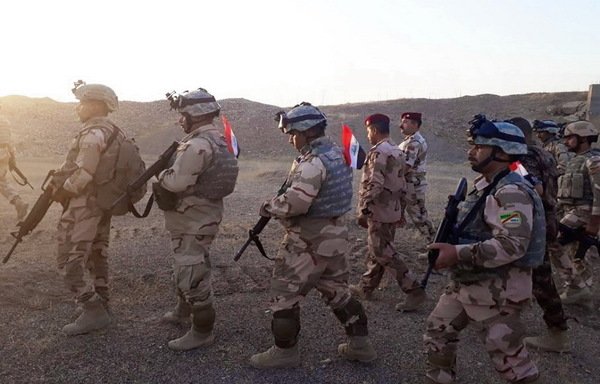 It is part of the third phase of the "Will of Victory" security campaign, which aims to clear large swathes of Diyala, Ninawa, Salaheddine and Anbar provinces of ISIS remnants.
"Security forces intervened at the right time, thereby taking out the terrorist cell and preventing it from achieving its goals," ​​Diyala provincial council head Ali al-Daini told Diyaruna on Friday.
The four militants were "preparing to launch major attacks against civilians in markets and public areas during Eid al-Adha", he said.
Recent security campaigns, including the "Will of Victory" campaign, have reduced the number of ISIS elements and forced any remnants to stay hidden in the areas of al-Nada basin, northern al-Muqdadiya, Hamreen and the outskirts of Khanaqin and Mandali, he said.
"Significant security and intelligence progress has been achieved over the last two years," al-Daini said, adding that "surprise security operations have foiled many enemy plots".
"The killing of these four ISIS elements is yet another such quality operation, and it will certainly not be the last," he said.
Enhanced security during Eid al-Adha
The operation comes two days after an Iraqi military intelligence force arrested a dangerous terror element in the village of al-Ait in the district of Khan Bani Saad in Diyala.
The militant, one of the most highly wanted men, is accused of detonating a truck bomb in the crowded market of Khan Bani Saad during the holidays in 2014, killing more than 100 citizens and wounding dozens more.
Security forces have taken precautionary measures ahead of Eid al-Adha this year, al-Daini said.
"In addition to pre-emptive operations, all security agencies are in a state of heightened alert inside cities and have begun to beef up their deployment and checkpoints, especially in crowded areas," he said.
"Our forces are vigilant and we are confident in their ability to provide a safe environment for Iraqis during the holiday," he added.