Iraqi forces backed by international coalition warplanes have ousted "Islamic State of Iraq and Syria" (ISIS) remnants from the area of Kanous island, near the northern Salaheddine city of al-Sharqat, local officials said.
For years, ISIS elements had used Kanous island (Zour Kanous) as a strategic haven, they said. But since the successful conclusion of an Iraqi Counter-Terrorism Service (CTS) operation, it has been free of the group's presence.
Over the course of one short day, September 10th, Operation Black Dirt "achieved remarkable results", al-Sharqat mayor Ali Dawdah told Diyaruna.
Counter-terrorism forces, along with Salaheddine and Ninawa police, "cleared the entire island of Kanous", with air support from the Iraqi army and international coalition, he said.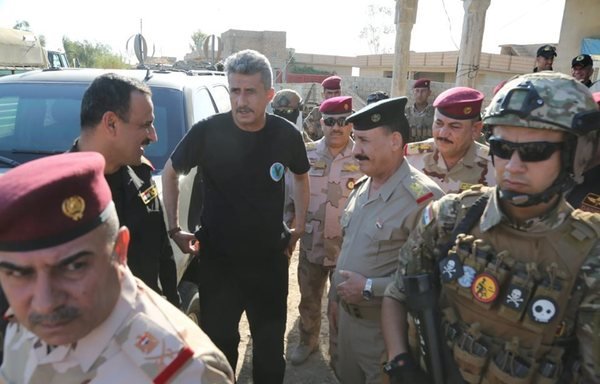 At least 25 ISIS elements were killed in airstrikes and ground operations that targeted their tunnels and safe-houses, he said, adding that those who tried to escape across the Tigris river by boat were killed on the spot.
According to the operation's commanders, Kanous island is "now a safe area and totally clear of terrorists", Dawdah said.
"Since the assault ended, we have not seen any terrorist activity launched from the island," he added.
A series of lethal operations
Operation Black Dirt followed a series of "lethal operations that targeted the island over the past months in which the coalition dropped concussion grenades to destroy terrorist hideouts and tunnel networks", Dawdah said.
In the latest assault on ISIS remnants, F-15 and F-35 aircraft dropped more than 36,000 kilogrammes of munitions on the island, he said.
This was carried out "based on accurate intelligence provided by the CTS, which had previously conducted several airborne operations and attacks on the island that led to the death of ISIS leaders and elements", he said.
A number of the group's rest-houses also were destroyed, he added.
"The recent operation to purge Kanous island was the largest offensive of its kind there since 2007," said al-Sharqat district council head Salah al-Shaalan.
Before ISIS overran swathes of northern Iraq in 2014, the island had been a hub for extremists, due in part to its proximity to the Tigris river, he told Diyaruna.
ISIS elements used it as a hideout after the group's defeat in al-Sharqat, he added, concealing themselves among the proliferation of reeds and tall grasses.
In addition to its riverside location, the island was a strategic area for ISIS remnants as it is on the road between Kirkuk and Mosul and offers access to the Hatra desert and the Iraq-Syria border, al-Shaalan said.
Operation Black Dirt "cut off the terrorists' main supply line and deprived them of their most important and earliest haven", he said.
'Terrorist threat is over'
"The terrorist threat the island posed to the city of al-Sharqat and neighbouring villages is over," al-Shaalan said, though ISIS still maintains a presence in the mountain ranges of Khanouka, al-Naml, Makhoul and al-Mashak to the south.
Backed by international coalition airpower, the CTS carried out an operation on September 21st to target ISIS hideouts in these mountainous areas.
Three ISIS elements were killed and dozens of the group's tunnels, dens and safe-houses were destroyed.
Kanous island is part of the administrative district of Ashur.
Ashur district director Jirjis al-Hijab confirmed that recent intensive security operations have "totally cleared the island of any terrorist presence".
"Using our thermal binoculars installed on the banks of the Tigris river, we used to observe ISIS remnants constantly moving from one point to another on the island," he told Diyaruna.
"After the last operation, we no longer see any abnormal activities, which means that the operations, which went on for months, ultimately achieved the desired objectives," he said.
Security forces are continuing to secure remaining isolated areas in the district, including Helou island, al-Hijab said.
Meanwhile, search operations in the mountains and islands of northern and western al-Sharqat district "are proceeding according to plans and making significant progress", he said.