Online accounts affiliated with the "Islamic State of Iraq and Syria" (ISIS) on Sunday (December 15th) posted a video claiming that the group sustained no losses in a recent operation that targeted ISIS hideouts in Salaheddine province.
The video addresses Operation Black Dirt, carried out September 10th by Iraqi special forces with the support of international coalition warplanes against ISIS remnants in Kanous island, near the northern Salaheddine city of al-Sharqat.
The group claimed in the video that none of its elements who were present on Kanous island at the time of the strikes were harmed, despite coalition aircraft dropping about 80,000 pounds (36,000 kilogrammes) of explosives.
At least 25 ISIS elements were killed in the airstrikes and ground operations that targeted their tunnels and safe-houses, al-Sharqat mayor Ali Dawdah told Diyaruna in October.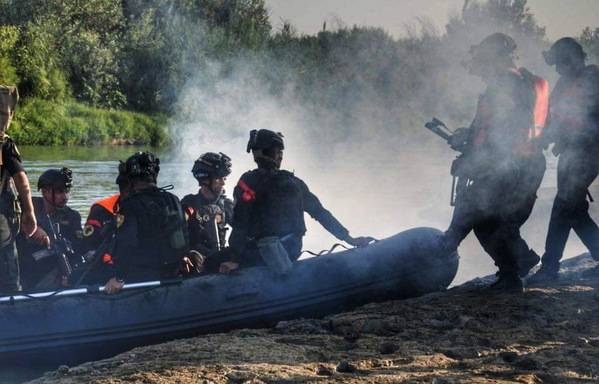 Those who tried to escape across the Tigris river by boat were killed on the spot, he added.
'ISIS claims are false'
"ISIS is, as usual, lying in an attempt to cover up its defeats and to raise the morale of its remaining dispirited elements," a local official in al-Sharqat told Diyaruna.
Through this latest video, ISIS seeks to "turn the truth upside down and deny the heavy losses its elements sustained on Kanous island, which was a major command centre for the group", said Ashur district director Jirjis al-Hijab.
Kanous island experienced "one of the fiercest and largest attacks against the terrorists, with coalition aircraft dropping dozens of tonnes of explosives on the island, which has an area of no more than four square kilometres," he said.
All the tunnels and secret underground shelters belonging to ISIS were destroyed in the operation, he added.
"It was a deadly, conclusive attack, and it is laughable for the group to claim that its remnants hiding inside those hideouts have survived it," al-Hijab said.
Former Counter-Terrorism Service (CTS) deputy commander Lt. Gen. Abdul Wahab al-Saadi, who led the attack, "inspected the island on foot with his soldiers and assured us that the ISIS operatives were all eliminated", he said.
Since the attack, the island "has not seen any terrorist activity except for one infiltration a few days ago, when our thermal cameras detected three terrorists", said al-Hijab.
The militants, who were chased by security forces, detonated an explosive device that wounded a security personnel and managed to escape, he said.
With the exception of this attack, the cameras that continuously monitor the island, the two banks of the Tigris river and the wildland stretching to the Makhmour hills, have not detected any suspicious movement, he said.
"This proves that ISIS's claims are false," said al-Hijab.
ISIS has lost everything and is collapsing, he said. "No matter how hard it tries, the group will not be able to regain its strength and rebuild its ranks."
"No one will be fooled by [ISIS's] futile propaganda, as residents, even the children, reject its ideology and crimes," he said.