Iraqi forces have surrounded Kanous Island (Zour Kanous) in al-Sharqat, northern Salaheddine province, where remnants of the "Islamic State and Iraq and Syria" (ISIS) have infiltrated in recent days, a local official told Diyaruna.
Military and tribal units launched an operation Saturday (September 19th) to search for these ISIS remnants, with additional elite reinforcements scheduled to arrive Monday to comb hotspots where militants are likely hiding.
Eastern al-Sharqat director Jarjis al-Hijab said intelligence sources have reported that ISIS elements have infiltrated Kanous Island.
This development comes more than three months after French warplanes carried out fierce strikes against ISIS targets, destroying a number of hideouts and tunnels on the island, he told Diyaruna.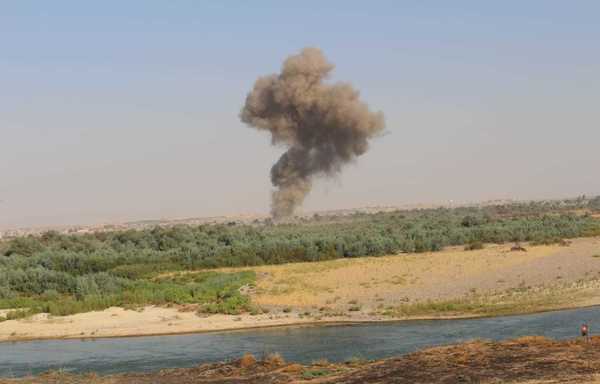 French military experts had arrived in al-Sharqat before the launch of the airstrikes and were posted at security points to the east and west of the town, with their reconnaissance equipment and drones, he noted.
In the three months since bombing ISIS targets in Kanous, thermal monitoring cameras did not record any abnormal activity in the area.
But recent intelligence reports have revealed that militants have re-infiltrated the island, taking advantage of the decline in security and search campaigns, said al-Hijab.
The area remains a strategic destination for militants due to its location at a crossroads that leads to four provinces: Kirkuk, Diyala, Ninawa and Anbar, he said.
It also stretches to the Iraqi border with Syria.
Iraqi forces quickly acted on the new information so as to prevent the militants from fleeing towards Makhmour or westwards towards Ninawa's Hatra desert, and from there to the Syrian border, he said.
Proceeding with caution
Forces from the army, police emergency regiments and Ninawa tribal mobilisation, as well as tribal and local volunteers began their attack on the island Saturday, al-Hijab said.
Iraqi warplanes have so far destroyed eight terror targets in the operation, he added.
"The terrorists are currently trapped in an area of no more than two square kilometres inside [Kanous Island] that is dense with trees, reeds and natural groves, some of which are up to five metres tall, rendering visibility almost non-existent," said al-Hijab.
This has made it impossible for regular units to move in the area, prompting the decision to dispatch a special regiment from the Counter-Terrorism Service (CTS), he said.
These forces are "trained in storming and searching areas with a challenging geography and are equipped with capabilities to mitigate risk", he noted.
"ISIS remnants may well have planted booby-traps at the entrances of their hideouts, or deployed snipers or suicide bombers," he said, "so operations are proceeding with great caution to prevent any losses in our forces' ranks".
The militants "cannot hold much longer", said al-Hijab, noting that they will likely be eliminated "today or tomorrow".