Two years after the liberation of Anbar's cities from the "Islamic State of Iraq and Syria" (ISIS), local authorities and civil organisations have been focusing their efforts on eradicating what remains of the group's extremist ideology.
Awareness campaigns have been especially targeting children and youth in displacement camps in Anbar, officials say.
They include holding seminars and workshops, and distributing posters and leaflets that denounce extremism.
Awareness campaigns are important, especially in the Upper Euphrates region which includes the cities of Heet, al-Baghdadi, al-Rutba and al-Qaim on the border with Syria, said Anbar tribal forces leader Sheikh Qatari Samarmad al-Obeidi.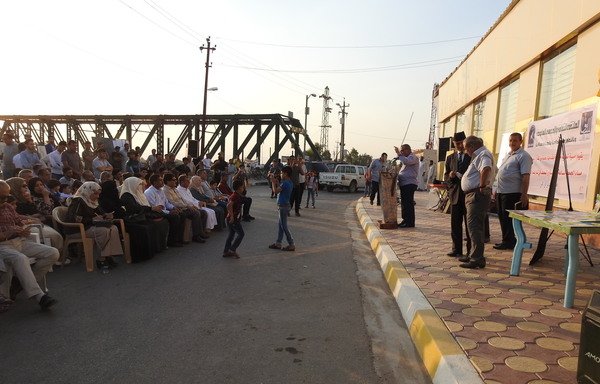 Such efforts will "ensure extremist thought is erased from the minds of children and youth", he told Diyaruna.
"Anbar has emerged from a fierce war against ISIS that caused serious damage to its infrastructure and left a high number of casualties," said al-Obeidi.
The war has resulted in the liberation of the province from ISIS, but sustainable security and stability "depend on tackling terrorist ideas and the repudiation of violence in all its forms", he said.
Now that military victory over ISIS has been achieved, it is time to combat the extremist ideology that some are still trying to disseminate, particularly inside displacement camps, Anbar provincial council member Hameed Ahmad al-Hashem told Diyaruna.
ISIS worked to distort the minds of children and minors, he said, stressing that this requires conducting awareness and educational campaigns to address the group's ideological brainwashing.
The awareness campaigns being conducted in Anbar were launched by the government's social welfare department, and international and civil society organisations, he said.
Workshops, seminars and dialogue sessions are held to educate the youth and expose ISIS's ideology, he said, adding that the campaign is conducted with the co-operation of the community police, tribal elders, the Directorate of Sunni Endowment in Anbar and the Council of Scholars of Rabat Mohammedi.
Sustained stability
"The current period requires concerted government and civil efforts to tackle the residual traces of terrorist thought that remain among some of those living in IDP camps," said Heet local council head Mohammed Muhannad al-Heeti.
This effort must be undertaken "before they return to their areas and rejoin their communities", he told Diyaruna.
"The security situation is stable and residents are co-operating remarkably well with the security agencies," he said, but ensuring sustained stability requires combating extremist ideology and exposing ISIS's false fatwas.
Civil society organisations and government institutions, including the departments of education and social welfare and the community police have been playing a prominent role in raising awareness about the deviance of ISIS's ideology, al-Heeti said.
The Anbar Police Command created the community police directorate in June, which is active in all of Anbar's cities, he said.
It has been instrumental in fighting radical ideology, crime and domestic violence and informing the public on how to co-operate with security agencies, he added.
Providing displaced families a 'safe environment'
"ISIS committed heinous abuses against innocent people when it controlled most of Anbar in 2014," said Samira al-Mohammadi, a researcher and human rights activist from Fallujah.
This has left behind psychological scars that are important to address, she said, adding that the community police and co-operation of the tribes and religious scholars with security forces "play an important role in curbing criminal ideology".
"Work is ongoing by organisations, religious scholars, community police and tribal elders, and through Friday sermons, to raise awareness about the dangers of extremist ideas and the threat they pose to children," said al-Mohammadi.
Youth volunteer teams have also been paying visits to displacement camps in the districts of al-Ameriya, al-Habaniya and Bzebiz to "raise residents' awareness and provide them with psychological and social support", she said.
"Life has returned to normal in Anbar," she said, and there is continued efforts by government agencies and international organisations to provide a safe environment for displaced families who have returned to their areas and those who remain in displacement.