Iraq's Ministry of Culture is getting ready to roll out an ambitious new project that will seek to combat extremist ideology on a cultural level, with the input and assistance of a range of non-governmental partners.
On May 22nd, Minister of Culture Abdul Amir al-Hamadani met with representatives from unions and cultural and media organisations to present the goals of the project and the plan for on-the-ground implementation.
The project will seek to address "all destructive terrorist ideas in an attempt to cleanse society of such thinking", said Iraqi Centre for Media Development director Adnan al-Siraj, who attended the preliminary meeting.
"Through this initiative, the ministry wants to protect society and future generations from the threat of these ideas," he told Diyaruna.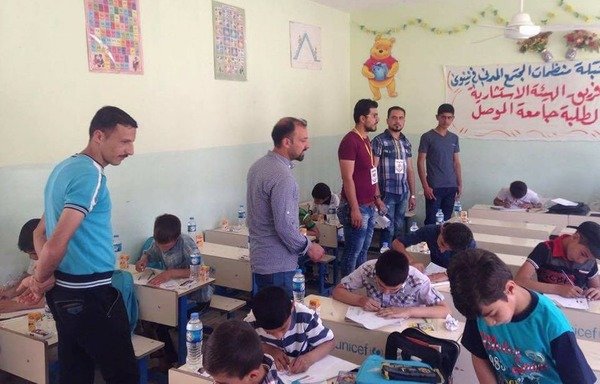 The project will include long-term programmes and will involve state and non-governmental organisations (NGOs), the media and other entities, he said.
"Everyone has to take part, and has a national prerogative to fight extremism," he added.
"The programmes and plans are currently a work in progress, and other meetings and small workshops will be held to come up with all aspects of the project," al-Siraj said, noting that this will have strong government support.
The central focus is expected to be on documentary films and theatre festivals, as well as organising cultural activities and book and photography fairs, he said.
The overarching goal is to shed light on how extremist ideology deviates from Islam and to make clear its catastrophic effects on communities, al-Siraj said.
Work also is under way to organise awareness and educational campaigns in schools and public spaces and to distribute posters and leaflets that denounce extremism and strengthen the societal fabric, he added.
Comprehensive battle
"The military defeat of terrorism is not the end of the line," Union of Iraqi Writers secretary general Ibrahim al-Khayat told Diyaruna.
The biggest challenge since the ISIS ouster is "how to prevent terrorists from taking root once again within society and getting a second wind by forming popular incubators", he said.
Al-Khayat said the writers' union has previously put in place a roadmap for the post-ISIS era and held several conferences and seminars in this regard.
It has been working towards incorporating its ideas and initiatives into the comprehensive project the Ministry of Culture is planning to launch, he said.
"Our plans involve spreading peace and love in the face of hatred, violence and bigotry," he said.
This will involve "developing a host of cultural activities that reinforce community cohesion in all its diversity and to emphasise that we are all in the same boat and have to reinforce our democratic experience", he added.
"Confronting extremist thinking is a difficult task," al-Khayat noted.
"For it to be successful, we need not only to focus our efforts on cultural aspects, but to also work on improving government performance at the services level and combating poverty, illiteracy and corruption," he added.
The effort to stamp out extremism is a "comprehensive cultural, social and economic battle that requires deploying all our resources to achieve victory", he said, urging all entities to work together to this end.
Safeguarding youth and minors
Civil society organisations have been working for years to combat extremist thinking, Mohannad al-Awmari, media officer for the Network of Civil Society in Ninawa, told Diyaruna.
"Several workshops and awareness campaigns have been organised for residents of Mosul and other cities in Ninawa, and we have ongoing projects targeting youth and minors to combat deviant concepts and thinking," he said.
Al-Awmari called on the government to support these activities and direct counseling and psychological rehabilitation efforts towards children living in displacement camps.
"We have to promptly embrace and foster these children so that terrorist and extremist ideas do not find their way into their minds," he said.