US forces on Thursday (August 15th) carried out heavy artillery shelling on "Islamic State of Iraq and Syria" (ISIS) targets near the town of al-Qayyarah, south of Mosul.
"In co-ordination with the Iraqi government, US soldiers from the Field Artillery's 2nd Battalion and the 1st Combat Brigade of the 101st Airborne Division are conducting a mission against ISIS positions near al-Qayyarah airport," the US Central Command posted on Twitter.
The aim of the mission is to "eliminate sleeper cells and ensure the permanent defeat" of the terror group, the command added.
US artillery shelling on the area of al-Hawi near al-Qayyarah airport "killed 16 ISIS elements, including seven Syrian commanders", Ninawa Operations Command Brig. Gen. Mohammed al-Jabouri said in a statement to local media.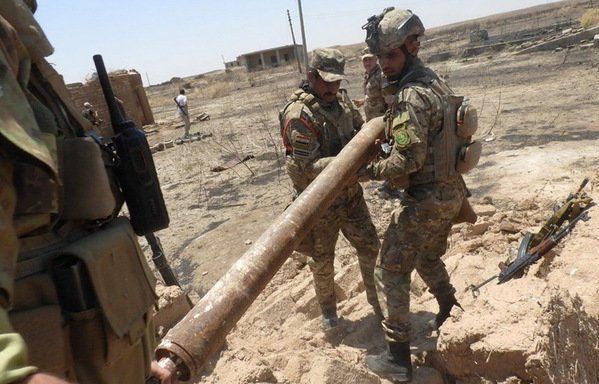 Al-Qayyarah district director Saleh Hassan Ali told Diyaruna the sound of shelling "could be clearly heard" in the western part of the town, which lies around 60 kilometres south of the city of Mosul.
It is not the first time coalition forces and the Iraqi army conduct joint, co-ordinated security missions against terror elements hiding near al-Qayyarah, he said.
Al-Qayyarah 'secure'
Earlier this week, an intensive air campaign by the coalition, in co-operation with Iraqi forces, on the area of Zour Kanous, south of Mosul, killed five ISIS remnants, Ali said.
Such missions are conducted "based on information provided by reconnaissance planes constantly flying over the desert and rugged terrain surrounding al-Qayyarah to monitor the militants' movements and hideouts", he said.
At least 20 ISIS remnants have been killed over the past few weeks in coalition airstrikes and missions carried out by the Iraqi army and tribal fighters, he said.
"The town is secure thanks to these ongoing security operations," he added, stressing that "there are no ISIS field commanders left in the areas south of Mosul".
Only a small number of ISIS elements remain in the area, Ali said, noting that they carry out "occasional attacks on small and remote villages from their underground tunnels that extend from the desert west of al-Qayyarah towards the sub-district of al-Tal in Hatra district".