Joint Iraqi forces have been conducting since mid-August sweep and clear operations in densely vegetated areas around the Tigris river, south of Mosul, to look for any remaining "Islamic State of Iraq and Syria" (ISIS) elements or safe houses.
The operations are conducted in co-operation between the Ninawa Operations Command's commando force and the Ninawa province police SWAT team.
An engineering force that specialises in diffusing explosives also is taking part in the security campaign.
On September 5th, 16 ISIS remnants were arrested in a security operation in the middle islands of Albu Saif, and their weapons and ammunition were seized, Ninawa operations spokesman Gen. Mohammed al-Jubury told the Iraqi News Agency.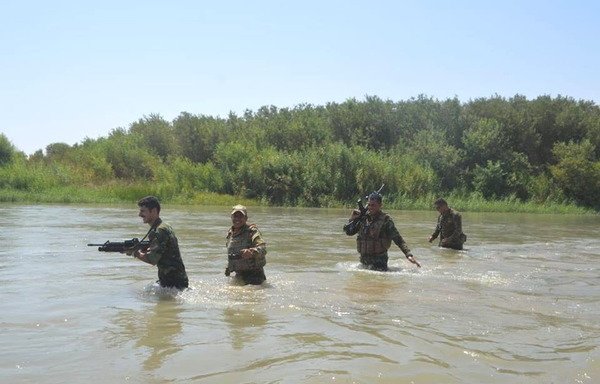 Three safe houses that ISIS elements had previously used for lodging were destroyed in an August 17th operation in Albu Saif and other areas along the Tigris river south of Mosul.
Three days prior, a commando force from the Ninawa command, backed by Iraqi air force, searched the middle islands of the Tigris river in Imam Gharbi village for any ISIS remnants.
The force destroyed four safe houses and two boats used by ISIS elements.
'No chance to regroup'
Special security operations are usually preceded by reconnaissance missions conducted by the Iraqi air force and international coalition aircraft to spot and identify any suspicious movement in the area of operation, said Ninawa Operations Command media director Brig. Gen. Firas Bashar Sabri.
Recent operations have uncovered "abandoned ISIS hideouts" that are being "completely destroyed and burned down so ISIS cannot use them again", he told Diyaruna.
"Only a small number of ISIS remnants exist in the targeted areas," he said, adding that they could be hiding in the thicket and weed that grow on the banks of the Tigris river and the naturally formed islands in the middle of the river.
"Our forces are hunting them down from one place to another", he said, stressing that they will not have the chance to regroup.
The support of local residents has been "pivotal" in locating ISIS remnants and hideouts, Sabri said, noting that "they spare no effort to provide any piece of information that could lead our forces to strike enemy targets".
Effective security efforts
Areas of al-Qayyarah that lie on the banks of the Tigris river and the middle islands that are locally known as "al-Hawanij", have witnessed ongoing operations to raid ISIS hideouts and destroy the boats they use to escape, said al-Qayyarah district director Saleh Hassan al-Jubury.
"Security forces in August, with support from the local population, killed at least five terrorists who were hiding in al-Hawanij," he told Diyaruna.
They also killed several other ISIS elements who were hiding in villages in al-Shura and the Hatra desert, he said.
"The security situation is good," al-Jubury said. "There might be some minor infiltrations here and there but they are not worrisome, and our forces are able to secure all the areas amid intensive air cover and precise intelligence efforts."
Ninawa provincial council security committee member Hassan Shabib expressed his support for the security operations south of Mosul.
"Security forces are monitoring any attempt from ISIS to take advantage of the thick vegetation surrounding the Tigris river and immediately destroying their cells and hideouts," he told Diyaruna.
Security efforts south of Mosul are "significant and effective", he said, noting that they are "contributing towards stabilising the area".