Iraqi forces have intensified their efforts to rout "Islamic State of Iraq and Syria" (ISIS) remnants from the Tigris basin to the south of Mosul, local officials said.
ISIS elements had found it easy to hide amid the heavy vegetation along the banks of the Tigris river, but are now starting to lose their grip on this area.
In mid-September, the 20th Army Command unit, along with several military brigades and Ninawa SWAT forces, launched an operation targeting areas on the western bank of the Tigris, including al-Qayyarah, al-Shura and Hammam al-Alil.
Security forces combed 35 villages, arresting 15 militants and destroying 15 rest-houses, a tunnel and 12 improvised explosive devices (IEDs).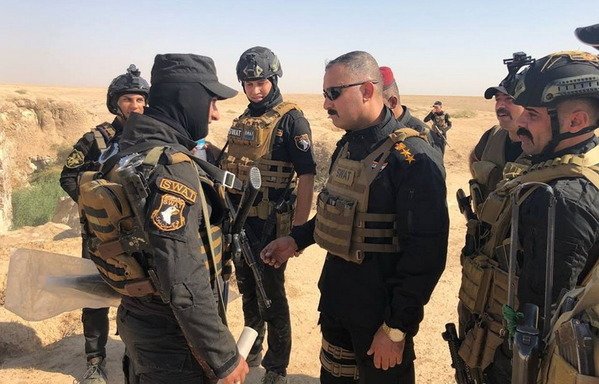 They also established a field operations centre to maintain security.
Security forces have ramped up their activity in the Tigris basin over the past few weeks, al-Qayyarah district director Saleh al-Jubury told Diyaruna.
The search operation has been described as "the largest of its kind since these areas were liberated two years ago" he said, noting that it covers a large swath of territory, with the objective of rooting out ISIS remnants.
"The security operations there transformed this area, which is rich in river islands, grasslands and natural hideouts, into an open space that offers no safety for terrorist elements," al-Jubury said.
Since mid-September, 17 ISIS elements have been killed in al-Qayyarah alone, he said. Three rest-houses have been destroyed, weapons and ammunition have been seized, and vehicles and boats belonging to the group have been burned.
"We can say that ISIS lost 90% of its clandestine footprint in this short period of time in the basin area and adjacent desert islands," he added. "The search operations have caught the terrorists by utter surprise."
The operation is succeeding due to the high levels of co-operation among the various military units and the local civilian population, he said.
"Our intelligence tells us there remain a small number of ISIS elements hiding in the targeted areas," he added. "These people have no chance of survival."
A diminishing threat
The recent security operations have "destroyed ISIS elements" and diminished the threat from any that might remain, said Khalid al-Jarallah al-Jubury, director of Ninawa's al-Shura administrative district.
The group's remnants have "lost their safe haven", he told Diyaruna, now that the middle river islands, known as al-Hawayij, and villages on the western side of the river have been secured and are being monitored.
Security forces, led by the Ninawa Operations Command and the army and police, have been actively targeting several secret locations that ISIS remnants thought would not be easily accessible, he said.
Military intelligence forces on September 17th found a large weapons cache in al-Shura island that contained more than 100 mortar rounds belonging to ISIS.
"The Iraqi air force destroyed more than five natural tunnels that are called (al-mughur), which, according to intelligence, sheltered between 10 to 15 terrorists, all of whom have been killed and buried under the rubble," he said.
The role of the security forces in driving ISIS out of areas to the south of Mosul "is becoming increasingly significant", Ninawa provincial council member Hassan Shubeib al-Sabaawi told Diyaruna.
He also commended the civilian population for its support in helping security forces track down ISIS remnants.
"The influence of ISIS elements is significantly diminishing there, especially after the latest operations," he said. "The Tigris basin, which was fertile ground for terrorists escaping the liberation battles, has now become their grave."
All their hiding places are being destroyed, he said.