Iran's Islamic Revolutionary Guard Corps (IRGC) and affiliated militias have been turning up the pressure on residents of Syria's Deir Ezzor province, triggering a new wave of civilian displacement, a local activist said.
Many abandoned homes are then seized via various ploys and converted into housing for the militias, particularly in the strategic border town of Albu Kamal, Deir Ezzor activist Jamil al-Abed told Diyaruna.
This is part of a process through which the IRGC and its affiliated militias are systematically emptying Deir Ezzor of its residents, especially in Albu Kamal and the surrounding countryside and in al-Mayadeen, al-Abed said.
In other actions that drive residents to leave, the militias prohibit locals from removing rubble caused by the war and frustrate their efforts to find work or to restore basic services, he said.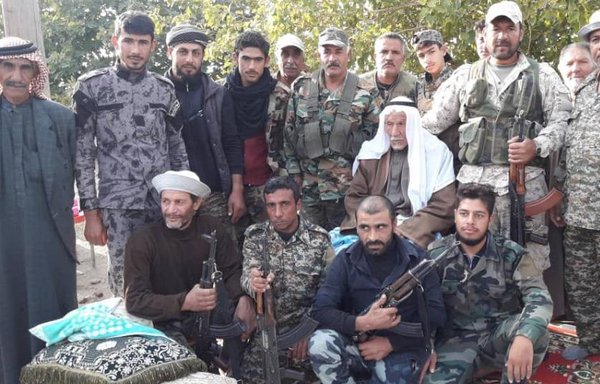 This has prompted an exodus of thousands of civilians, he said, who head for other areas of Deir Ezzor, Damascus and areas controlled by the Syrian Democratic Forces (SDF).
Meanwhile, the militias are divvying up influence and control over areas vacated by the local population and turning their homes into security posts and housing, he said, noting that the village of al-Suwaiyyah has been completely taken over.
Acquisition of homes, property
There also have been cases where homes and properties have been purchased from civilians in the area by militia members or collaborators specifically tasked to do this by the IRGC, he said.
These purchases are either carried out through direct transactions with the Syrian regime, or are facilitated by Syrian intermediaries operating on behalf of the IRGC, al-Abed said.
In purchases facilitated by the Syrian regime, IRGC officers work with Syrian government institutions to acquire factories owned by absentee landowners -- Syrians who have been out of the country for years, he explained.
Once the transaction has been completed, the official paperwork is filed with the Syrian Ministry of Industry, he said.
Ultimately, Iran's attempt to bolster its influence in eastern Syria serves its regional agenda to open up a passage to Lebanon and the Mediterranean through which it can funnel fighters and arms and expand trade.
Activists, civilians under pressure
Syrian activists sounded the alarm about the deployment of IRGC-affiliated militias in Deir Ezzor, and noted the presence of Iranian elements and members of Lebanon's Hizbullah, Iraq's Harakat al-Nujaba and the Fatemiyoun and Zainabiyoun militias, which comprise Afghan and Pakistani fighters, he said.
Most of these militias have a presence in Albu Kamal, which borders Iraq.
After the activists made this information public, the IRGC-affiliated militias closed off many areas, moved their weapons caches and combed the area in search of those who had posted the information, al-Abed said.
They also imposed strict restrictions on communications and photography.
Other tactics used to harass civilians and prevent the return of normal life include imposing virtually impossible conditions on the rebuilding of mosques in Albu Kamal and Deir Ezzor, he noted.
The militias have stipulated that those who seek to rebuild must obtain security approvals from them before rebuilding permits can be granted, even if the donor is a native of the area, he said.
Some merchants also have been prohibited from rebuilding their shops, he said.
The IRGC-affiliated militias also have imposed restrictions on the use of mosques in Albu Kamal, al-Mayadeen and certain areas of Deir Ezzor, he said, noting that special offices now oversee the Friday sermons.
Meanwhile, husseiniyas have proliferated and are operating freely, he said.