Iraqi forces have foiled an "Islamic State of Iraq and Syria" (ISIS) attempt to re-establish the group's "Southern Wilaya" which extends from al-Dora in southern Baghdad to nine other Iraqi provinces in the south.
In a swift secret operation, the Iraqi National Security Service "blocked a new ISIS plan to re-establish the 'Southern Wilaya'", security analyst Fadel Abu Ragheef told Diyaruna Monday (June 17th).
It has dismantled the wilaya's core network, whose members were planning to conduct terror attacks in nine southern Iraq provinces through initial bases established in the towns of al-Yusufiya and al-Iskandaria south of Baghdad, he said.
Based on intelligence reports, security forces were able to carry out a series of precision raids in areas located on the southern outskirts of Baghdad, "which led to the arrest of all of the network's 17 members", he said.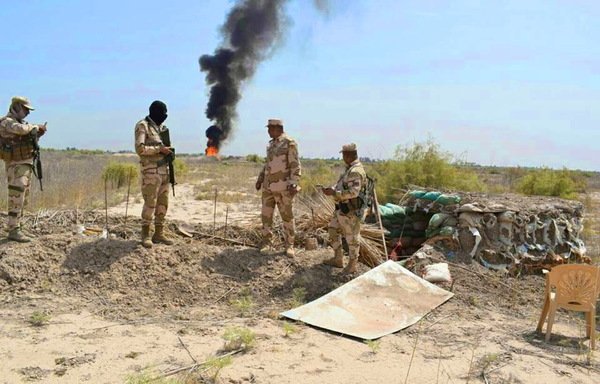 The network was headed by the "Wali of the South", an ISIS element known as Abu Tayba and whose real name is Ali Ahmed Abboud al-Issawi, said Abu Ragheef.
Abu Tayba was wanted by security forces for his involvement in many crimes, as well as for setting up ISIS rest-houses and bases near Baghdad, he said.
Other arrested members of the network include Dayim Karim al-Janabi, also known as Abu Suheib, who is responsible for providing logistical support to the wilaya; Walid Talib al-Jumaili, known as Abu Hutheifa, appointed as administrator of the wilaya; and Burhan Mohsin Alwan al-Masoudi, known as Abu Ishaq, who was in charge of rest-houses.
Tahseen Ali al-Kartani, who was in charge of moving militants and weapons, and Zaid Maan Khalaf al-Obeidi, secretary-general for the "Southern Wilaya", were also arrested in the operation.
The network also included "inghimasis" -- suicide attackers who immerse themselves in enemy ranks -- and fighters who were preparing to carry out terror attacks, Abu Ragheef said.
Iraqi security forces have previously foiled several ISIS attempts to revive the "Southern Wilaya" by striking ISIS networks and cells responsible for carrying out bombings and attacks in southern Iraq, he said.
Eliminating ISIS remnants in Baghdad
Meanwhile, security forces on Sunday (June 16th) announced that a campaign was underway to clear areas around Baghdad of ISIS remnants.
"The campaign aims to search for secret terrorists' hideouts in areas characterised by abundant weeds, crops and dry rivers, with a focus on northern Baghdad," Abu Ragheef said.
The campaign begins from the areas of al-Zour, al-Hawra and Albu Hayan, and extends to al-Karma island in Anbar province, he said.
"ISIS remnants are looking to infiltrate and hide in those farmlands, which take up an area of 6,000 dunams and enjoy a proximity to Baghdad," he said, noting that they could serve as potential launchpads for terror attacks.
Abu Ragheef called to step up security and intelligence efforts to fully eliminate any terror presence in those areas.