Iraqi intelligence and Counter-terrorism Services (CTS) recently apprehended two "Islamic State of Iraq and Syria" (ISIS) cells, thwarting the attacks they had been planning, a security expert said Wednesday (April 17th).
Pre-emptive security operations are becoming "more active and more effective", security analyst Fadel Abu Ragheef told Diyaruna.
Through early detection work, which involves following up on security information and handling such information with complete confidentiality, terror plots can be foiled before they are able to be carried out, he said.
Acting on intelligence information, security forces succeeded in "thwarting the plots of two ISIS cells that were planning to carry out large-scale terrorist operations against civilians in the north and centre of the country", he said.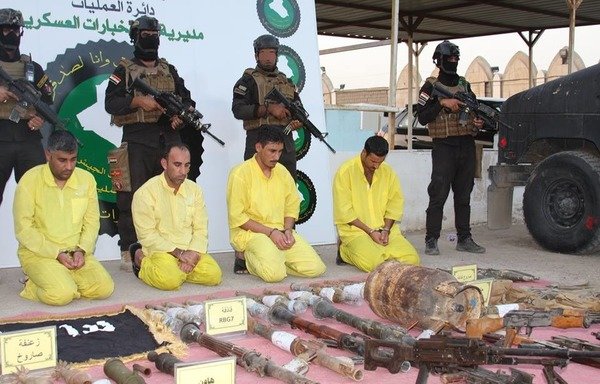 "The first cell includes five elements who were arrested two weeks ago in a desert area in western Ninawa province, some 125 kilometres from the border with Syria," Abu Ragheef said.
The arrests were carried out during a "rapid, surprise action by the Intelligence Falcons Cell, following monitoring and tracking of the cell's movements and activities".
The cell members had prepared a "broad plan" that included "sending suicide bombers and car bombs from the Ninawa desert towards Salaheddine province and the capital, Baghdad" that would be detonated in public places, he said.
The members of this cell were "dangerous terrorist elements who have already carried out bombings", including a recent attack on a bridge in Ninawa, Abu Ragheef said.
Salaheddine cell apprehended
Earlier this month, the Salaheddine Counter-terrorism Directorate arrested between eight and 10 members of another terror cell, Abu Ragheef said.
They were arrested in a series of operations "west of the city of Tikrit, between the towns of al-Jalam and Mutaibija in south-eastern Salaheddine", he added.
"They were responsible for at least eight previous bombings in the provinces of Salaheddine, Ninawa and Anbar," he said, and had been preparing to launch a new wave of attacks in those provinces.
"Prior to taking out these two terrorist cells, there were arrests this year of many terrorists and cells specialised in assassinations and in planting improvised explosive devices (IEDs) and booby-trapping cars," Abu Ragheef said.
Also apprehended in these operations were "large terrorist-funding networks" and individuals who had supplied ISIS remnants hiding out in desert and mountain areas with intelligence and logistical support, he said.