By going after "Islamic State of Iraq and Syria" (ISIS) recruiters and dismantling their cells and networks, Iraqi forces have continued to keep pressure on the group and prevent it from resurging.
ISIS has lost many fighters in recent years, a state of affairs that is evidenced by a decline in the intensity of its attacks, said Iraqi MP Katah Najman al-Rikabi, who serves on the parliamentary security and defence committee.
As the group's numbers have dwindled, it has desperately sought to attract new recruits, he told Diyaruna.
It has singled out the families of deceased ISIS fighters for its recruitment efforts, grooming their sons by taking care of them financially and attempting to indoctrinate them with its hardline ideology, he said.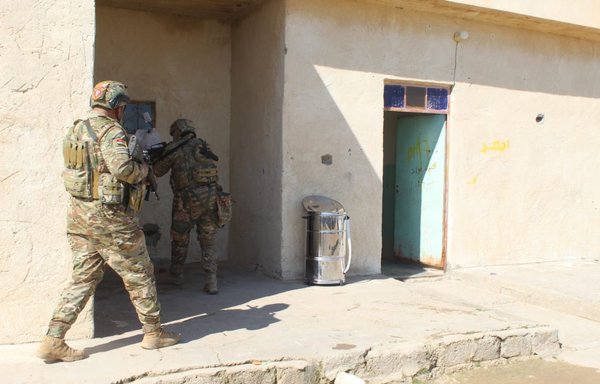 Young men are enticed into joining the group with money, he said, or their families are pressured into sending them through threats and intimidation. This is especially prevalent in remote rural areas, where there are still pockets of ISIS remnants.
'Their mask has fallen off'
In November, Iraqi military intelligence arrested six men in Kirkuk, Anbar and Baghdad who were actively distributing so-called "guarantees" -- money given to care for ISIS families and encourage their sons to join the group.
In October, the Counter-Terrorism Service (CTS) announced the arrest of an ISIS operative who had been recruiting children in Fallujah.
The CTS said it will "continue to cut off the sources of extremism, represented by the remnants of defeated ISIS leaders who are trying to establish a terrorist base by exploiting children to do the bidding of their terrorist agenda".
It pledged to eliminate these cells "and their takfiri ideology".
There are relatively few ISIS elements at large at present, intelligence expert Fadil Abu Ragheef told Diyaruna, with estimates indicating there are fewer than 3,000 ISIS elements in Iraq's valleys, deserts and uninhabited areas.
These remnants face many challenges, including their inability to attract new recruits and public support, he said.
"Their mask has fallen off, and the communities that were previously deceived by their words and ideas have awakened to the truth and no longer support them," Abu Ragheef said.
Residents of the areas ISIS once controlled regard the group with marked hostility, he said, and thanks to the vigilance of the local population, security and intelligence forces have become more capable of penetrating ISIS's ranks.
In the past three months, a number of terror cells have been dismantled, he said, including a 15-member sleeper cell that was apprehended in Ninawa in mid-November.
This cell had been actively recruiting members and planning attacks, he said.
Thwarting recruitment attempts
Abu Ragheef said the monitoring of social media platforms and removal of extremist accounts has limited the effect of ISIS propaganda and thwarted the group's attempts to mislead, recruit and gain the confidence of young men.
The Ministry of Interior on November 11th announced it had taken down dozens of websites that it said had been inciting violence and hatred.
Security analyst Mohammed al-Rubaie noted the increase in security and intelligence efforts geared towards ending ISIS recruitment operations targeting children and youth, either in person or online.
He told Diyaruna the ongoing pursuit of recruitment networks and the targeting of their activities is making headway, which in turn means ISIS is having trouble increasing its numbers.
For this reason, it has changed its tactics, he said, relying on "lone wolf" operators to launch small-scale attacks and reducing suicide operations, in order to preserve the fighters it has.
The development of the security apparatus and its growing ability to uncover sleeper cells and incubators that sponsor and finance terrorism has helped to keep ISIS in check and strip it of its power, he said.
"But it remains too early to ascertain whether the danger has completely disappeared," he said, noting that the group has continued to carry out attacks in Diyala, Anbar and Salaheddine provinces, and even in the Baghdad belt.
Eliminating this threat will require intense confrontation with ISIS remnants, he said, and to keep building positive relations and bridges of trust with local populations to support these efforts.