Iraqi intelligence on Monday (February 11th) announced the success of a sweeping campaign to track down and arrest dozens of secret "Islamic State of Iraq and Syria" (ISIS) cells in Baghdad and Anbar.
Among the 186 detainees are dozens of elements accused of committing horrific crimes, said Fadel Abu Ragheef, a security expert specialising in terrorist groups.
The Intelligence and Counter-terrorism Directorate in Anbar and the Falcons Intelligence Cell jointly announced the arrests, Abu Ragheef told Diyaruna.
"The cells' locations were identified and they were taken out in a series of raids and arrests in various parts of Baghdad and Anbar during a period of 15 months, according to arrest warrants issued by the courts," he said.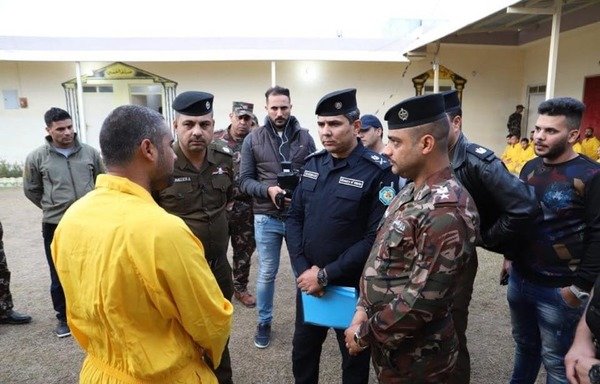 "The cells, which fell one after the other like dominoes, were made up of 186 elements, mostly ISIS leaders considered to be some of the terrorist organisation's most dangerous members," he said.
"The detainees have been involved in many horrific crimes, some of which date back to the time when the group was in control of Iraqi provinces, including Anbar," Abu Ragheef said.
"One of the terrorist cells was involved in the mass killings of hundreds of Albu Nimr tribe members in areas in Heet during 2014 and 2015," he said.
Between 2014 and 2015, ISIS carried out mass executions of about 700 members of the Sunni tribe because they opposed its ideology, with most taking place in the city of Heet in western Anbar.
Criminals brought to justice
"Among those arrested was the murderer of Iraqi soldier Mustafa al-Athari, together with seven aides who participated in the soldier's hanging on a bridge in the city of Fallujah in 2015," Abu Ragheef said.
"There were other groups involved in transferring car-bombs and detonating them in markets and civilian gatherings in Baghdad and Fallujah, causing the killing and wounding of hundreds of victims," he said.
"Other terrorists have planted improvised explosive devices (IEDs) and mines on dirt roads in the Anbar desert and in various locations to target members of the security forces members and citizens," he added.
The arrest of such a large number of cell members is a "painful strike" on ISIS, he said, which is counting on its remaining sleeper cells to restore its activity and threaten the security of the country.
The only remaining choice for ISIS holdouts is "to be killed or arrested and receive fair punishment for the crimes their hands have committed against innocent people", Abu Ragheef said.