Iraqi intelligence services are waging an "information war" against "Islamic State of Iraq and Syria" (ISIS) remnants with the help of local populations.
This war relies on pre-emptive operations to thwart terror attacks and has proven to be very impactful in the war against ISIS, officials tell Diyaruna.
In a June 5th security operation in Anbar province, Iraqi forces relied on intelligence information to foil a large-scale suicide attack that was going to target civilians celebrating Eid al-Fitr.
An intelligence unit stormed a location in al-Baghdadi district where seven suicide bombers were planning an attack.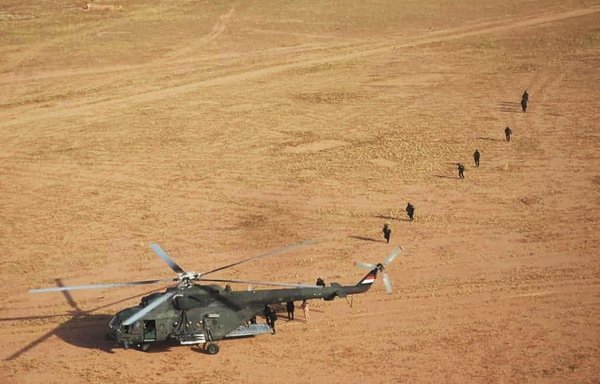 In its campaign against ISIS remnants, the intelligence community has at its disposal "a valuable trove of information on ISIS elements and cells", security expert Saeed al-Jayashi told Diyaruna.
"This information is constantly being refreshed based on real time updates, police filings and reports from a variety of sources," he said.
Intelligence officials are now focused on collecting and analyzing available information which is used to launch surprise attacks on ISIS elements, he said.
These efforts "will continue and become more co-ordinated in order to yield significant results and security wins", al-Jayashi said, noting that missions to hunt down militants in remote and rugged terrains will also be stepped up.
These include the Anbar desert and the Hamreen mountain range that runs through Kirkuk, Salaheddine and Diyala provinces and the Upper Euphrates region, he said.
ISIS elements now resort to launching individual, small-scale attacks as a result of military pressure and a low number of new recruits, he said.
'ISIS fears citizen support'
In order to fully rout ISIS remnants, intelligence officials are building trust with local communities, he said, stressing that "no matter how strong the security efforts are, they cannot be impactful without support from the civilian population".
Residents have been encouraged to monitor and report the movement of militants and their hiding areas, he said, "as any security success is a stabilizing factor for their own neighbourhoods".
"What ISIS remnants fear the most is intelligence support from the local civilian population," said Iraqi MP for Diyala Abdul Khaliq al-Azzawi, who serves on the parliamentary security and defence committee.
ISIS attacks on remote villages and towns are designed to terrorise the locals and cut off any communication between them and Iraqi security and intelligence services, he told Diyaruna.
The security and defence committee has discussed this issue in meetings with security officials, he said, where it urged them to step up intelligence efforts and the pre-emptive targeting of ISIS remnants.
Al-Azzawi noted that there are villages in Salaheddine and Diyala provinces that remain "weak from a security perspective", because their residents are "helpless and unable to provide sufficient intelligence for fear of revenge from ISIS".
"Our demands centered on increasing security in those villages and allowing the formation of adequately armed civilian vigilante groups in an effort to ward off terror threats and maintain the level of intelligence support," he said.
Intelligence work improves
The Iraqi intelligence effort has seen major improvement over the past few years, al-Azzawi said, noting that ISIS elements used to carry out attacks by taking advantage of the dearth of intelligence and the delay of preventative security measures.
Things are now different, however, he said, "as Iraqi forces conduct debilitating strikes against ISIS remnants".
As part of its campaign against ISIS remnants, Iraqi intelligence services have detained hundreds of ISIS elements hiding in remote areas.
During the first week of June, nine senior ISIS militants were arrested based on sources who confirmed that one of them is "the founder of the ISIS branch of the town of al-Rashidiya (in northern Baghdad)".
In another operation in Diyala province, a four-member ISIS cell that belongs to "wilayat Diyala" was dismantled. The cell was implicated in acts of murder, displacement, kidnapping and robbery.
Additionally, two men in Mosul and the town of al-Karma, eastern Anbar, who were spying for the group about the movements of security forces have been arrested.
"The intelligence network in Iraq is outstanding in its ability to eliminate terrorist pockets," Anbar provincial council spokesman Eid Ammash told Diyaruna.
"The latest operations, particularly in the Anbar desert, are clear indicators of such activity and bring a level of comfort to the civilian population that their security forces are alert and that they have to support them," he said.