For years, Diyala province was a strategic and indispensable stronghold for the "Islamic State of Iraq and Syria" (ISIS), owing to its location between four provinces and its complex geographic terrain and abundance of orchards and trees that provide good cover for hiding.
The province today is no longer a safe haven for militants, however, as a result of intensive security operations there, officials said, especially in the Hamreen hills and villages along the administrative border between Diyala and Salaheddine provinces.
ISIS remnants are facing increasing difficulties finding bunker hideouts in Diyala, they said.
Sweep and search operations in al-Azeem and the Hamreen hills and basin in September have resulted in the destruction of ISIS safe-houses and weapon and ammunition caches, said MP for Diyala Abdul Khaliq al-Azzawi.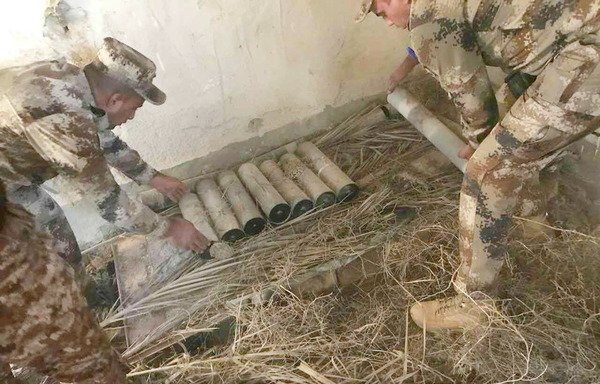 In mid-September, Iraqi fighter jets killed three extremists in the Buhaira area in Hamreen, and burned 25 boats used by ISIS to move around or flee, he said.
Security forces on September 17th set up an ambush for a vehicle carrying extremists near a customs checkpoint in the area that resulted in the killing of seven ISIS elements, he added.
These operations are often carried out based on tip-offs by residents, which are key to any security effort undertaken by Iraqi forces, he said, adding that intelligence information enables the forces to weaken ISIS remnants and paralyze their capabilities and movements.
'One team'
The conversion of most security forces in Diyala into "strike forces" has been key, and is beginning to have a positive impact on the security situation, al-Azzawi noted.
"We now have many emergency response regiments (ERR), SWAT teams and rapid reaction forces (RRF), and they are carrying out qualitative pursuit operations against the enemy," he said.
"Our forces are holding ground and not allowing the terrorists to get a foothold in any part of the province," al-Azzawi said, noting that the "successive [security] operations have turned the isolated mountainous areas of Diyala into inhospitable and unsafe ground for ISIS remnants".
Diyala police spokesman Col. Ghaleb al-Attiya said his forces are carrying out security operations in "joint high-level co-ordination" with the Diyala Operations Command, the 5th Army Division and tribal mobilisation forces.
"We work with the spirit of one team. We assign tasks and responsibilities and launch one operation after another wherever the terrorists are," he told Diyaruna.
Diyala police forces have captured this year "more than 400 terrorists", al-Attiya said.
"Residents get the largest share of the credit for helping us track down ISIS's cells and offering suggestions to improve the security effort," he said.
Losing ground in populated and isolated areas
ISIS elements "have lost their safe haven in the province, as they have no presence whatsoever in the cities, and are being hunted down in isolated areas", he said.
"The development of intelligence work and popular support for the security forces have helped increase the pressure on ISIS remnants and thwart many terrorist attacks on innocent civilians," said Diyala provincial council security committee head Sadiq al-Husseini.
"It has become difficult for terrorists to find hideouts and fortified bunkers in our province or to breach our cities and carry out attacks," he told Diyaruna.
"There are many and varied security forces pursuing the enemy from one location to another and tightening the noose around him," he said, stressing that the security effort should be a shared responsibility.
"Forces in our province are today taking part with great effectiveness in major security operations and maintaining security in areas and villages on the edges of Kirkuk and Salaheddine provinces," he said.