The Iraqi Military Intelligence Directorate has arrested 19 wanted persons in security operations against "Islamic State of Iraq and Syria" (ISIS) sleeper cells in Kirkuk, Anbar, Ninawa and Diyala provinces this week, an official told Diyaruna Wednesday (May 15th).
In Kirkuk, a sleeper cell that belonged to ISIS's so-called Wilayat Kirkuk was dismantled and its 12 members arrested.
They had been providing money, weapons, fuel and food supplies to ISIS fighters hiding in remote areas, and preparing rest-houses for them.
"The [intelligence] directorate is making great progress with regard to tracking down sleeper cells and arresting their elements," Iraqi Defence Ministry spokesman Maj. Gen. Tahseen al-Khafaji told Diyaruna.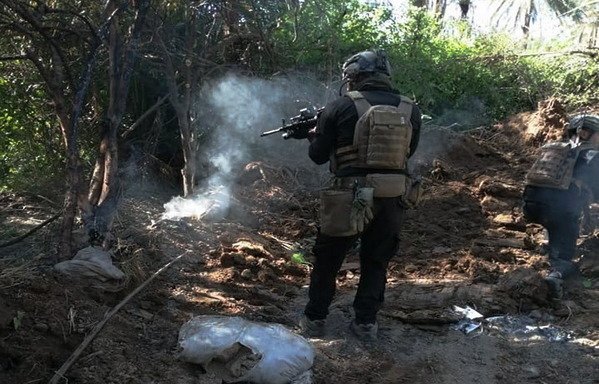 The arrests are part of recent security and intelligence measures against a large number of ISIS leaders and elements in western Kirkuk and the Hamreen mountain range, he said.
These remnants are trying to resume activity with the help of sleeper cells that have returned to certain liberated villages, especially in al-Hawijah, he said.
Citizen tip-offs key to success
"Most of the credit for the terrorists' arrest goes to citizens, who on a daily basis provide us with a large volume of information on the hideouts of ISIS remnants and sleeper cells," said al-Khafaji.
These tip-offs have helped Iraqi forces launch operations against targets in a more accurate and rapid fashion, he said.
Meanwhile in Anbar, military intelligence units have arrested two wanted men in the district of al-Rutba, one of whom was providing money to ISIS elements and equipping them with vehicles, he said.
"The other detainee was giving ISIS information on the movements of security forces and those who collaborate with them," he added.
Another ISIS element, who was arrested in the area of ​​al-Soufia in Ramadi, was in charge of ISIS's Daawa (proselytizing) and Guidance Diwan, he said.
The intelligence services also arrested four men, three of whom were arrested in al-Aamil and al-Intisar neighbourhoods in Ninawa's Mosul, he said, noting that they were part of a sleeper cell that had fought against security forces during operations to liberate the city.
The fourth, an ISIS fighter, was arrested in the town of al-Khalis in Diyala, he said.
Al-Khafaji stressed the defence ministry's efforts to encourage intelligence work, "as the battle with the remaining terror gangs today is one of information and secret operations".
"To this end, we will continue our efforts to win citizens' confidence and to co-ordinate with other security and intelligence units in order to thwart all of the enemy's plots," he said.