The latest security operations in Iraq have depleted the offensive capabilities of "Islamic State of Iraq and Syria" (ISIS) remnants and stripped the group of the ability to regroup, according to officials and experts who spoke with Diyaruna.
Joint Iraqi forces have been carrying out the "Will of Victory" security campaign since July 7th, which aims for the total elimination of ISIS cells in the desert that stretches across Anbar, Salaheddine and Ninawa provinces and up to the Iraq-Syria border.
In the campaign's first phase, a series of operations were launched to sweep through and destroy ISIS hideouts in the Iraqi desert along the Syrian border.
The second phase was launched on the northern outskirts of Baghdad while the third covered the mountainous areas in western Mosul and eastern Diyala.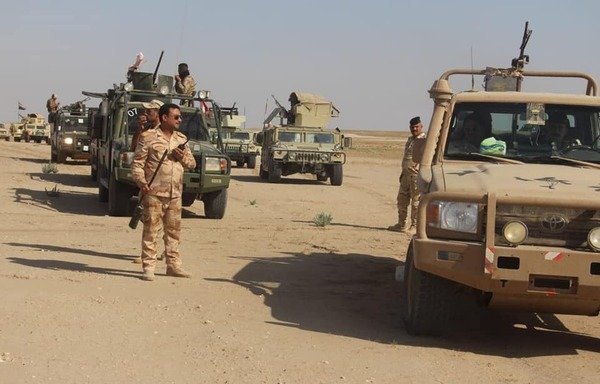 The objective behind these consecutive operations is to "prevent the terrorist group from regrouping and regaining its combat capabilities", security expert Saeed al-Jayashi told Diyaruna.
"At the security level and according to documented evidence, the campaign contributed to reducing terrorist operations by more than half and weakened the enemy," he said.
It has prevented ISIS remnants from launching attacks such as targeting checkpoints, intercepting travellers, planting road side bombs, kidnapping and murder, he said.
"The remaining elements form a small number of cells that do not have enough weapons and explosive caches and live in fear inside caves in the desert," said al-Jayashi.
The operations have stripped the militants of the ability to receive logistical support from ISIS remnants across the border hiding in the eastern desert of Syria.
"Our forces are making significant efforts to secure the Iraqi-Syrian border, and we have succeeded during this current and previous security campaigns to undermine dozens of attempts to infiltrate the border," he said.
Iraqi forces achieved this through setting up ambushes and mounting intensive intelligence operations, he added.
ISIS remnants are "in a state of confusion and are now fugitives rather than being in control", said al-Jayashi.
ISIS resurgence unlikely
This comes amidst recent news reports stating that ISIS still poses a serious threat and that the group is resurfacing and regaining control.
However, Joint Operations Command spokesman Brig. Gen. Yahya Rasul told Diyaruna that it would be "impossible for the group to make a comeback in light of the continued security and preventative operations".
"The reality on the ground now clearly indicates that terrorists' capabilities in terms of human and financial resources and morale are declining rather than the opposite," he said.
ISIS numbers are dwindling as a result of military pressure, he said, noting that ISIS remnants gather in groups of three to five militants "that are on the defensive rather than the offensive".
The "Will of Victory" campaign has resulted in the death and arrest of many of these militants and the destruction of their hideouts, he said, while ISIS elements who are still at large are "isolated in remote areas and subjected to tighter controls on the border against infiltration and the provision of supplies".
In conjunction with these operations, Iraqi intelligence agencies have "thwarted the plans of ISIS sleeper cells that were trying to stage large scale attacks", said Rasul.
On August 7th, Iraqi intelligence forces in Ninawa province dismantled a five-member terror cell in Mosul. Hard drives containing important information and documents as well as books promoting ISIS's ideology were found in their possession.
A day prior, the intelligence services infiltrated another five-member cell in the Ramadi island area in Anbar, who were planning an attack against civilians during Eid al-Adha.
The advances made by intelligence forces represent "a major pillar of support for all other security efforts", Anbar tribal forces leader Sheikh Qatari Samarmad al-Obeidi said.
The militants "have run out of energy and can no longer take the initiative to attack", al-Obeidi said, adding that they are surrounded in areas such as Wadi Houran, Wadi al-Qathf, the Hamreen and Makhoul mountains.
However, he cautioned against ISIS's ability to regroup in Syria, saying, "This requires that we monitor the border more closely and continue with our pre-emptive security efforts."