Iraqi forces said a vast swath of the Ninawa Badiya (desert) near the Syria border has been secured after a string of operations targeting "Islamic State of Iraq and Syria" (ISIS) remnants were launched in early August.
The operations have targeted western Ninawa's Hatra and al-Baaj districts towards the border strip with Syria and to the south towards Anbar province, Ninawa operations commander Maj. Gen. Ismail al-Mahalawi told Diyaruna.
The search operations -- the largest since ISIS was defeated in late 2017 -- focus on tracking ISIS elements who survived the liberation battles and escaped to Ninawa's desert areas, he said, noting that these militants are mostly locals.
All ISIS hideouts are being targeted based on plans drafted with security and intelligence leaderships, he said, noting that approximately 200 square kilometres of territory have been searched and secured.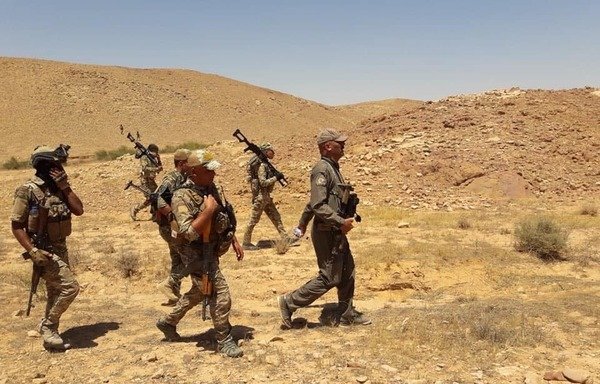 These operations "deprive ISIS elements of the chance to catch their breath and regain a foothold", said al-Mahalawi.
The threat they pose has diminished, he said, as only a few terrorist rest-houses and hideouts remained in the area of operation and they have all been uncovered.
Al-Mahalawi said the Ninawa command is working to expand the scope of operations and increase their pace in the coming period.
"Over the next few weeks, we will conduct larger-scale search operations in several locations that we cannot reveal at this point," he said, stressing that all areas where ISIS remnants seek refuge will be targeted until Ninawa is "fully purged".
No safe haven
The Ninawa command is also actively protecting the border with Syria against infiltrators.
In an August 14th statement, the Ministry of Defence announced the Iraqi army "had captured 31 terrorists infiltrating the border with Syria in an ambush", in the largest operation of its kind in years.
There is ongoing military collaboration to secure the entire desert region shared by Anbar and Ninawa provinces north of the Euphrates river, Anbar tribal commander Sheikh Qatari Samarmad al-Obeidi told Diyaruna.
The al-Jazeera and Ninawa commands are conducting operations with tribal participation, "to track down terrorist hideouts in western Wadi al-Tharthar, Rawa islands, Hatra and al-Baaj, to the border with Syria", he said.
The militants "try to disguise themselves as shepherds as they move from one place to another to obtain supplies or to flee", said al-Obeidi, but they are ultimately captured by Iraqi forces with the help of locals and intelligence efforts.
He noted that border control forces are prepared to secure the Iraq-Syria border on their own.
Units from the 8th Division, which are taking part in securing the border, are in the process of transporting some of their forces to Kirkuk and the Hamreen hills to put pressure on ISIS cells active there and cut off their supply routes that extend to western Ninawa, he said.