A detailed analysis of "news" items published by the "Islamic State of Iraq and Syria" (ISIS) via its propaganda agency, Amaq, has confirmed there is no truth to the vast majority of the group's output, Iraq's Ministry of Defence said.
Iraq's Joint Operations Command on Sunday (June 9th) announced its Security Media Cell has found that 64% of news items ISIS published in May were false.
Between April 30th and May 27th, ISIS published 114 news stories via Amaq, 73 of which were untrue, the media cell said, noting that the rest were "of no value, and mostly aimed at allowing the group to have a media presence".
"The analysis is part of a monitoring operation that experts from the cell are conducting on a daily basis of news, messages and releases on Amaq and other ISIS electronic platforms," said ministry spokesman Brig. Gen. Tahseen al-Khafaji.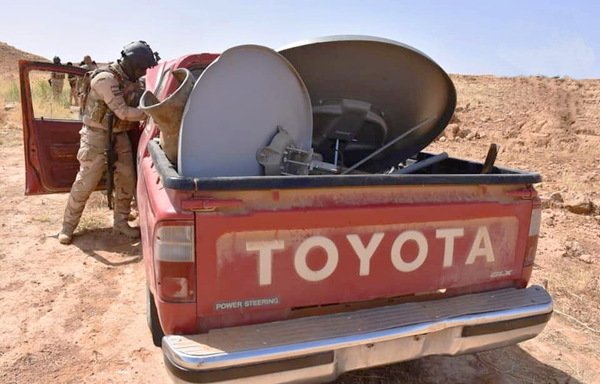 "The results of the latest analysis provide a sampling of the lies and deception peddled by terrorists in an attempt to trick public opinion and pretend that the group has not been defeated but is still active and strong," he told Diyaruna.
ISIS is seeking to dilute the bitterness of its defeat for its followers and sympathisers, he said, especially after the al-Baghouz battle crushed its final stronghold in Syria and forced thousands of its fighters to surrender.
Scenes of their surrender were broadcast in the mainstream media, he said, "showing them in a weakened position, contrary to their claim that they were fighting till the last breath".
'Level of deception has gone up'
In his most recent speech, circulated online on April 29th, ISIS leader Abu Bakr al-Baghdadi highlighted "the role and importance of the media in raising the morale of his supporters" and promoting the group's ideology, al-Khafaji said.
"Ever since that speech, the level of deception has gone up in all of the group's digital releases, and it has falsely claimed responsibility for several crimes and accidents, and flagrantly exaggerated the details and results," he said.
The Security Media Cell and the National Cell for Psychological Warfare Operations have been monitoring the messages ISIS is releasing online and that its members are posting on social media, particularly Telegram, he said.
"Everything that is being issued or talked about is not only being monitored but also inspected and analysed," al-Khafaji said.
"Dozens of terrorist activities have been thwarted, thanks to this media monitoring and intelligence gathering of terrorist conversations and their digital communications and messages," he said.
Thanks in large part to these efforts, "security forces recently have been successful in targeting important ISIS media centres", he added.
On April 11th, the counterterrorism agency destroyed a facility used to produce ISIS's weekly propaganda magazine al-Naba, during a raid in the Hamreen mountains.
And on May 26th, security forces destroyed an ISIS base in Wadi al-Hussainiyat in the Anbar desert, along with a communications network and Internet routers.
Media is the group's 'last weapon'
"ISIS has lost land as well as human and military resources, and is now only left with the media as a weapon to fight with," said Hashim Hassan, dean of Baghdad University's College of Media Studies.
"Fake news that involves exaggeration and deception is the last resort for the group to stay in the spotlight and that their miserable defeat is not the end of them," he told Diyaruna.
The group is trying to raise the morale of its members and recruit new members to put its house back in order, he said.
"The group excels in spreading fabrications and propaganda, and is quite adept at using digital technology," Hassan said. "It is taking advantage of the difficulty in monitoring online content so it can gain a foothold in the virtual world."
Tightening cybersecurity is one of the ways to stop the communication and propaganda of terrorists, he said.
"But more importantly, we have to create a hostile environment for terrorist and extremist thinking and behaviour by adopting a bundle of economic, services and social reforms," Hassan added.
ISIS's new propaganda strategy
"The results of monitoring the news ISIS is releasing confirm that the group is trying to adopt a new strategy in its media and propaganda operations," said Issam al-Fayli, who teaches political science at al-Mustansiriyah University.
This involves unabashedly spreading falsehoods or "claiming responsibility for incidents, as long as they serve its interests", he told Diyaruna.
The group's goal is "to galvanise its fighters and sleeper cells, and try to put psychological pressure on the civilian population, while undermining their confidence in the security services", al-Fayli added.
"The international community is called upon to have a more effective collaboration with Iraq" in monitoring the media activity of extremist groups like ISIS, he said.
But there also needs to be "a national media strategy that confronts terrorist ideologies and behaviour", he added, noting that Iraq has the expertise it needs to "expose the ISIS propaganda machine".