The "Islamic State of Iraq and Syria" (ISIS) group's leader Abu Bakr al-Baghdadi made his first purported appearance in five years in a propaganda video released Monday (April 29th), AFP reported.
The world's most wanted man was last seen in Mosul in 2014, announcing the birth of ISIS in Iraq and Syria.
In the video released by ISIS's Al-Furqan media arm, the man said to be al-Baghdadi referred to the months long fight for ISIS's final redoubt al-Baghouz, which ended in March.
"The battle for al-Baghouz is over," he said, sitting cross-legged on a cushion and addressing three men whose faces have been blurred.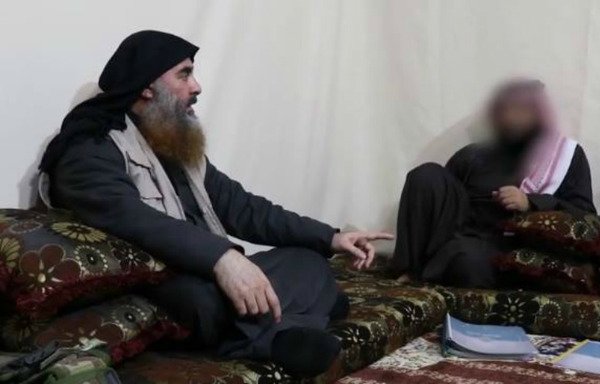 He also referred to a string of ISIS defeats, including its onetime Iraqi capital Mosul and Sirte in Libya.
In a segment in which the man is not on camera, his voice described the April 21st Easter attacks in Sri Lanka, which killed 253 people and wounded nearly 500, as "vengeance for their brothers in al-Baghouz".
Al-Baghdadi appeared in a white-walled room lined with cushions, but it was unclear exactly where or when the footage was shot.
He had a long grey beard that appeared dyed with henna and spoke slowly, often pausing for several seconds in the middle of his sentences.
An older-model Kalashnikov assault rifle leaned against the wall behind him.
Al-Baghdadi stuck in the past
A team of Iraqi experts and researchers in intelligence, media, psychology and sociology are examining the content of the new video, Iraqi Defence Ministry spokesman Maj. Gen. Tahseen al-Khafaji told Diyaruna.
The team is investigating the content and subjecting each of al-Baghdadi's words to "study, research and analysis", he said.
The ISIS leader, whose confusion and anxiety were clearly visible in his appearance, al-Khafaji said, sought to "invigorate [ISIS's] defeated remnants and sleeper cells with phrases that did not hide the state of misery he and his gang are in", he said.
Through the video, al-Baghdadi aims "to prove to his supporters that he is still alive and continues to lead the group despite the defeat", he said.
But al-Baghdadi does not realise that the situation is no longer the way it was in 2014, said al-Khafaji.
"Our forces are today stronger and enjoy experience, training and great intelligence capabilities in tracking and eliminating terrorists in co-ordination with the international coalition," he said.
"Efforts to track [al-Baghdadi] down are ongoing," he said, along with the rest of the group's remnants, in order to prevent them any opportunity to regroup.
ISIS today relies solely on disseminating propaganda in order "to spread lies about its activities to camouflage its collapse", he said, adding that the group seeks to create the impression it is active around the world.
"[ISIS] is over and what remains of it will be crushed sooner or later," al-Khafaji said.
Egyptian military expert Abdul Karim Ahmed agreed with al-Khafaji, saying that al-Baghdadi's main objective from appearing in the video is to reinvigorate his followers and attempt to recruit new elements by suggesting that the group still exists.
The ISIS leader seeks to make up for his group's defeat in Syria and Iraq, he told Diyaruna.
"Al-Baghdadi had a weapon placed to his right, in the style of al-Qaeda leaders [Osama] bin Laden, [Ayman] al-Zawahiri and Abu Musab al-Zarqawi, to revive al-Qaeda mannerisms and win over veteran terrorists to his ranks," he added.
'Strategic, psychological blow'
The US, which has a $25 million bounty on al-Baghdadi's head, said it was assessing the authenticity of the video but vowed to keep up the battle against the extremist group.
The international coalition leading the fight against ISIS will "ensure an enduring defeat of these terrorists and that any leaders who remain are delivered the justice that they deserve", a State Department spokesman said.
Even if al-Baghdadi is alive and well, the spokesman said that ISIS elements had been battered.
"ISIS's territorial defeat in Iraq and Syria was a crushing strategic and psychological blow as ISIS saw its defeat, its leaders killed or flee the battlefield, and its savagery exposed," he said.